The last time Pete and I were in Bangalore (2003), after a bit of bar-hopping with friends, we broke from the main party to walk around by ourselves. I must have been quite mellow by then because I remember putting up only the mildest objection when Pete decided he wanted to check in on a nightclub - out of professional interest, he said, a Brit DJ's curiosity about what music was played by Indian DJs.

I cant remember the name of the nightclub but it was on the first floor, a bit seedy, with lurid UV lighting that gave a ghoulish glow to teeth and the whites of the eyes. The music was ok, but what distinguished the place as far as we were concerned was the superb peanut salad that came free with the drinks. It was the absolute best I've ever had anywhere and as far as I could tell (remember my mellowness, which luckily didnt affect my taste buds), the ingredients were bog standard.

I made my version of this salad yesterday when some friends came home, and although (as always) the salad didnt, in my opinion, reach the standard of the nightclub one, everybody said it was the perfect accompaniment for beer and alcohol in general. Well hey, deserving or not, you gotta take the kudos as you find it, so I sat back and sipped my margarita, glowing in the manner of the amateur cook who has just had a lot of praise for a very simple preparation. It works for me!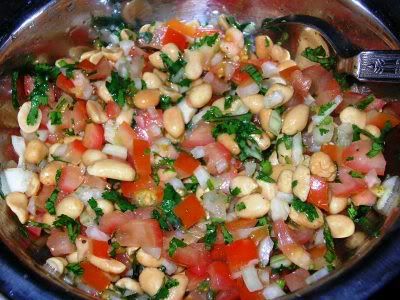 Recipe for:
Easy peanut salad


2 cups lightly salted peanuts (ready-bought ones will do fine)
2-3 green chillies, minced fine (optional or to taste)
2 medium tomatoes, de-seeded and chopped
1 medium onion, chopped fine
Juice of one lemon/lime (to taste)
1/2 tsp freshly ground peppercorns (to taste)
1/2 cup fresh coriander leaves, chopped
1/2 tsp chaat masala for garnish (optional)

Method:

1. Mix all the ingredients together, sprinkle the chaat masala on top if using, and serve at room temperature as a snack to go with drinks.