Like I've said before, there's nothing like fresh-made sevai. And while the recipe to make the sevai dough is as simple as they come, the actual making process can be somewhat time- and energy-consuming. And yet it's worth the trouble, once in a rare while, to go the whole nine yards and make sevai from scratch.

Once it is made, the basic sevai can be made into several tasy dishes with various flavourings and additions - both sweet and savoury. As always, I prefer the savoury versions because my sweet tooth, never particularly pronounced, is getting shyer and more retiring by the day. Sevai can be made into lemon sevai, coconut sevai, masala sevai with vegetables, etc - but the classic combination is mor kuzhambu and poppadams, deep-fried. Dont ask me why mor kuzhambu and not any sambar - some things are just the way I've always known them!

By the way, sevai is traditionally made with parboiled rice (puzhungal arisi). I dont know if it would work with basmati rice or any other type of rice... one of these days I might give it a go, but if anybody out there has already tried making sevai with basmati or other rice varieties, please let me know how the sevai turned out!

If you dont have a sevai press, I believe you can use a
ribbon pakoda achu
to the same effect - of course using the omapodi-making plate - the one with tiny holes. It would probably be even more time-consuming this way, though, as only a little dough can be used at a time to make the noodles.

Recipe for:
Sevai


Ingredients:

2 cups parboiled rice (puzhungal arisi)
2 tbsp oil
Salt to taste
Water to soak the rice

Method:

1. Soak the rice in water for 8 hours or overnight.

2. Grind to a very smooth, thick batter (like idli batter) using only as much water as necessary. Stir in the salt and oil once the batter is ready.

3. Grease some
idli plates
and pour the batter in each depression. Steam in a pressure cooker, without using the weight, for 10 minutes.

4. Turn the heat down to a simmer and carefully remove one idli plate from the stand. Close the cooker again. It is important that the noodle dough stays hot until just prior to being used. Cold dough is very, very difficult to work with.

5. Scrape the "idli" into the hollow cylinder of the sevai press.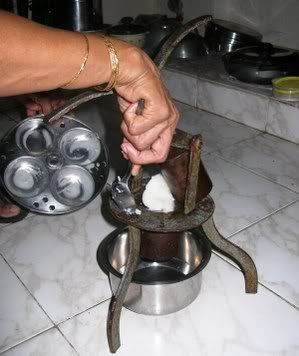 6. Bring the top cylinder down over it and turn the handle (much easier to do if another person holds the legs of the press steady).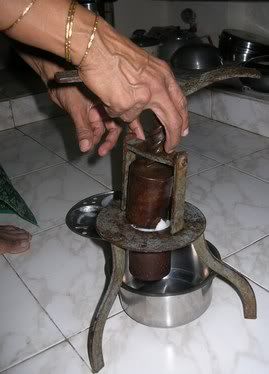 The pressure forces the noodles out of the tiny holes in the hollow cylinder. Use up the remaining dough in the same manner.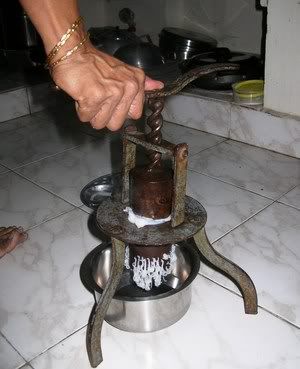 7. There it is - sevai ready for transformation into various flavoured avatars!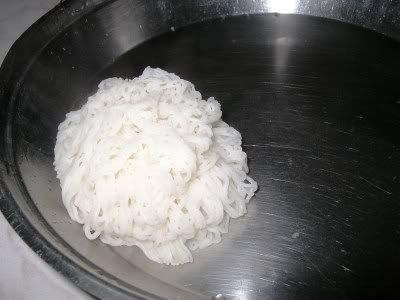 Note: The sevai needs to be "loosened" when cool - this can be done gently with two forks. If the sevai seems rather sticky, dampen your hands as necessary with water, and gently separate the noodles with your fingers.