Cassava is a vegetable I remember from the years we were in Dar-es-Salaam, Tanzania - it was available as street food everywhere, roasted over coals or deep-fried. Personally the roasted cassava was my favourite... for about a shilling, you could get a large paper cone of roasted pieces, sprinkled with salt and red chilli powder. I can tell you it tasted divine, probably because of its very simplicity. The flavour and texture of cassava (or "mohogo", as it's known in Swahili) falls somewhere between potatoes and parsnips - firmer than potatoes when cooked, but not as sweet as parsnips.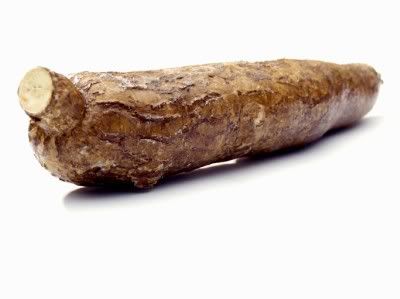 Cassava was not something we ever cooked at home, so when I bought a fat, foot-long length of the tuber on impulse recently, I was at a slight loss about what to do with it. However, I decided to try baking it in the oven, treating it pretty much as I would a potato. Well, not exactly the same, obviously, as the cassava skin had to be peeled.

To my surprise it was easy enough to peel, but cutting it into chunks was a different matter. The tuber is VERY hard (if you find it at all spongy or soft, throw it away!) and I came close to disaster a couple of times when my knife slipped. (Ma, if you're reading this, dont worry, my fingers are safe and I still have all 10.) I also made sure to take out the stringy bit from the middle.

Anyway, once the cassava was cut into chunks, I put them in a saucepan with plenty of water and let it boil until the pieces were parboiled. Then they went into the oven (ofc with seasoning!) and about 20 minutes later, they were done. Yummy, they were almost as good as those I'd eaten in Dar. I say almost, because memories of good things (and good times) are sometimes stronger than reality.

One warning, though... you have to keep a sort of hawk eye on the cassava after 10 minutes in the oven - checking every so often to see that it's reasonably soft-crisp but not overdone. I baked some of the chips for too long and they not only looked and felt like chips of wood, they also tasted about the same. A trial for the teeth, certainly.

Recipe for:
Oven-baked cassava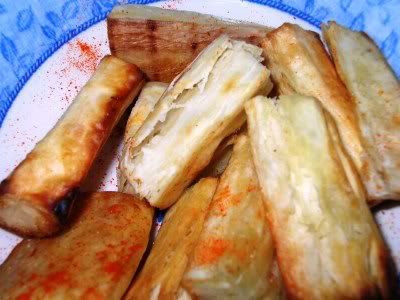 Ingredients:

4 cups cassava - peeled, cut into chunks and parboiled
3-4 tbsp oil (I used Lite Sunflower Oil spray)
Salt, pepper/red chili powder to taste

Method:

1. Toss the parboiled chunks of cassava with the oil and spread on a baking tray.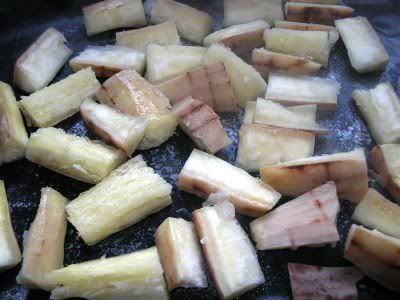 2. Bake in the oven at 180C for about 20 minutes (or till pale golden brown), turning over the chunks after 10 minutes for even baking. Check the cassava often to ensure it doesnt get dried out.




3. Serve hot, sprinkled with salt, red chili powder and any herbs/spices of preference.