I had a yam. I had it for 3 weeks, actually. Often - sometimes even twice a day - I would take it out of the vegetable basket, look at it, wonder what to do with it, and then put it back, just as undecided as before.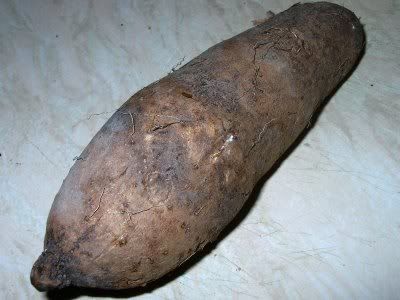 On one of those inspections, on a daring impulse, I decided to wash the grit off it. I dried it thereafter, patted it to let it know that it was not being ignored - and put it back out of sight. Back to Square One.

I looked my yam up on the Web (well, not MY yam in particular, but the family history of yams in general), and discovered that what most Americans refer to as "yam" is actually a variety of sweet potato with bright orange flesh. Yam, apparently, is not as commonly available in supermarkets in the US as most people might imagine - they are more likely to be found in ethnic food stores.

This was interesting information, but it didnt get me any closer to using my yam.
Then yesterday, in a do-or-die spirit of Enterprising Culinariness, I retrieved my long-suffering yam from its temporary-but-nearly-became-permanent home, determined to do something edible with it.

To that end, I peeled the darn thing... and got an unpleasant surprise because the texture of the yam was disgustingly slimy. And I mean REALLY slimy. Think chopped okra washed in warm water - yes, THAT slimy. (Maybe I shouldnt have peeled it? I dunno!) I very nearly let the whole lot slither into the bin, but that would have gone against the Code of Enterprising Culinariness that is so important to all just-above-mediocre cooks like me (Remember, people - this is where you heard of the Code first!).

So I persevered, cutting the yam into round slices about 1/4 cm thick - or as close to that as I could manage with my knife. The yam slices were quite pretty because they had a delicate design of self-coloured dots - they kind of looked like small grains of semi-transparent, half-cooked sago (jevvarisi in Tamil) put together. (Ok, this might sound like a desperate attempt to retrieve the reputation of my yam - but honestly, the slices were pretty!)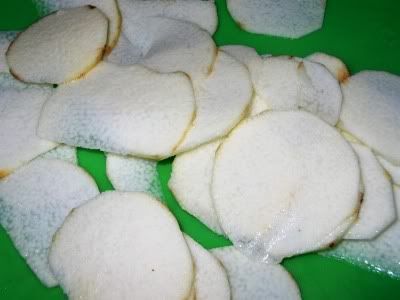 I didnt feel in the least like boiling the slices or cooking them in any other way, so I decided to make crisps of them in the oven. I have to say that I was not at all sure of the outcome... but the Code spurred me on to lay out the slices neatly on a baking tray which I had covered with a sheet of silicone paper sprayed with Light Sunflower Oil (I was certain the yam would overcome the non-stick aspect of the solicone paper, which is why the extra precaution of spraying it!). Then I sprayed the slices with more of the same, and shoved the tray into the oven at 180C.

About 15 minutes later, I mustered up the courage to peek in - and what a surprise, the yam slices had dried out nicely and were in the process of crisping up. Filled with the glee of a cooking experiment that had, unaccountably and against all odds, worked out just fine, I turned over each slice and put the tray back in the oven.

Another 10 minutes (this time with a close eye kept on the crisps lest they turned into yam charcoal), and I had a trayful of wonderfully firm-textured, extremely tasty yam crisps. Salted and peppered, they served to satisfy our mid-afternoon munchies admirably well. May the soul of my yam find its satisfaction from ours.

Long live the Code!

Recipe for:
Oven-baked yam crisps
Ingredients:

1 yam, peeled and sliced uniformly into 1/4-cm thick slices
Cooking spray as required
Salt and pepper or other spices to taste

Method:

1. Preheat the oven to 180C (about 350F) Arrange the yam slices on a baking sheet covered with greased silicone paper, so that the slices arent touching.

2. Bake for 15 minutes or so, or until the top surface of the yam has dried out and the slices are becoming brown.

3. Turn over the slices and bake for another 10 minutes, until the slices are crisp and brown (if you dont want the crisps very brown, take them out after five minutes - they will be chewy-crisp).

4. When cool, season with salt and pepper (or spices to taste) and store in an airtight container.