So, sometimes I can be quite slow at picking up on things – like the fact that chocolate chips in banana bread really do work quite well. I guess since I'm not overly crazy about chocolate, I've not bothered to try banana bread recipes that specified chocolate. This time I added the semi-sweet chocolate chips because they were just past their best-by date and any more time on the shelf would have only seen 'em off into the rubbish bin. The choc chips added moistness to the bread (an unexpected plus) – or at least I think they did. The bread might have been moist anyway because the bananas I used were almost at the liquid stage of ripe.




Anyhow - Pete loved the banana bread (he's not much of a fan of this, most other times), and I found the choc chips in it surprisingly nice too. Who knew that chocolate and bananas would work well together...! (apart from the millions of others who've already tried and tested and written about the combination, that is.)

Recipe for:
Choc chip banana bread




Ingredients:

2 cups flour (I used 1 cup AP and 1 cup wholewheat)
1-1/2 tsp baking soda
1/2 tsp salt
4 overripe bananas
3/4 cup sugar
4 tbsp unsalted butter/margarine, melted and cooled
2 large eggs
1 tsp vanilla extract
1/4 cups mixed nuts, chopped (I used walnuts, pecans and brazils)
1/2 cup semi-sweet chocolate chips

Method:

1. Preheat oven to 180C/350F and lightly grease a 9x5-inch loaf pan.

2. In a large bowl, combine the flour, baking soda, and salt.

3. Mash 2 bananas with a fork in a small bowl. They should be a bit lumpy.




4. In another bowl, whisk the remaining bananas and sugar together till well combined.




5. Add the melted butter/margarine, eggs, and vanilla and beat well.




Stir in the reserved mashed bananas.

6. Add the mashed bananas to the flour and mix till just incorporated.




7. Fold in the nuts and the chocolate chips




then pour the batter into the prepared loaf tin.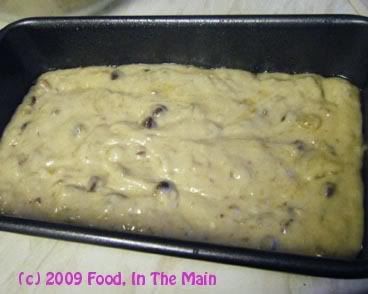 Bake for about 45 minutes or so (but start checking after 30 minutes), until the loaf is golden brown and a toothpick inserted into the middle of the loaf comes out clean.




8. Cool the bread in the pan for 10 minutes or so, and then turn out onto a wire rack to cool completely before slicing.