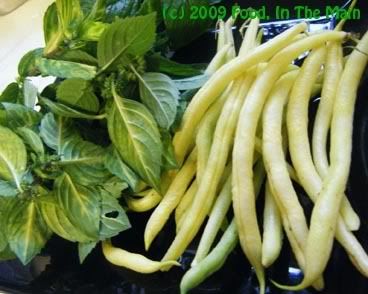 I wonder if there comes a point when it's no longer a thrill to be able to go into your garden and pick your own vegetables, herbs or fruit fresh, to use in your own kitchen (or even to see used in someone else's kitchen, come to that) for your own family's consumption. I haven't come to that stage and I don't see myself ever doing so, if only because I don't grow as many edible things as I'd like to because of space constraints and my own limitations as a gardener.

Given that, every little thing that I use from my garden is a source of huge pleasure – the ripe blueberries that I pick off in ones and twos and eat rightaway (not enough of them to do anything else!); the chillies that I've picked and used; the herbs (3 types of mint, sage, thyme, chives, parsley, coriander and 3 types of basil), the spinach beet leaves… all of these seem to taste better for having grown in my containers.

This year, for the first time, I tried growing some dwarf yellow French beans – I have six plants that give me a handful of golden-yellow tender beans every week. Usually I'm happy to boil them, and eat them straightaway without further ado – they're that good (and I like fresh French beans that much). But this time I wanted to use them in a recipe, and given that I'd got a bunch of mint (it really is growing like crazy this year) from my garden, the last of the coriander and some fresh green chillies, I thought to combine them all in one recipe – along with fresh green peas as well.

So that is what this is – a very green(fingered) pulao recipe.

Recipe for:
Minty golden bean pulao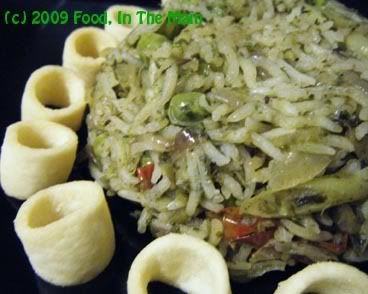 Ingredients:

1 cup basmati rice, washed and soaked for 20 minutes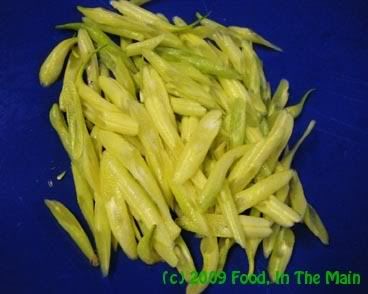 1/2 cup golden (or green) French beans, sliced on the diagonal
1/2 cup fresh green peas
1 cup loosely packed mint leaves
1/2 cup loosely packed coriander leaves
2 tbsp lime/lemon juice
5 baby plum tomatoes (or 1 small tomato), chopped
2 medium onions, sliced thin
5 purple shallots, sliced thin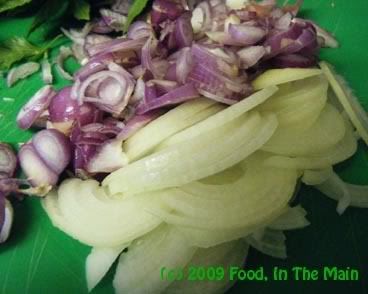 4 fresh green chillies (or to taste)
1 tsp cumin seeds
1 tsp coriander powder
1" piece ginger, sliced
Salt to taste
1 tsp oil
2 cups water

Method:

1. Grind the mint, coriander, green chillies and ginger to a smooth paste along with the lemon juice. Reserve.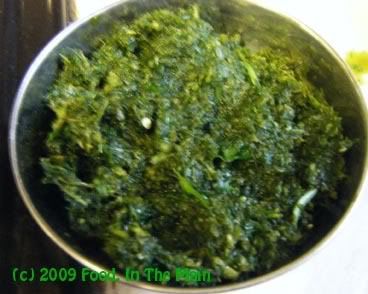 2. In a pan (preferably one which has a tight-fitting lid), heat the oil. Fry the cumin seeds and coriander powder for 30 seconds,




then add the sliced shallots and onions and stir-fry on high heat till the onions start to turn soft.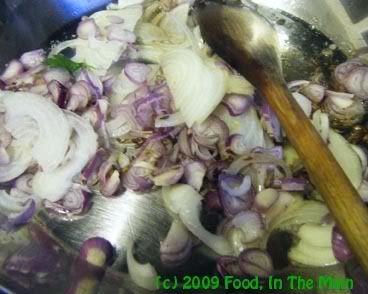 Stir in the tomatoes and let them cook for a couple of minutes.




3. Add the green peas and the sliced beans and mix them into the onions, stir-frying for 2-3 minutes.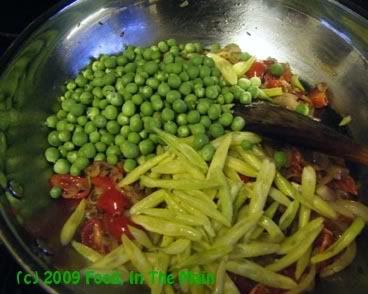 Then add the ground mint-coriander paste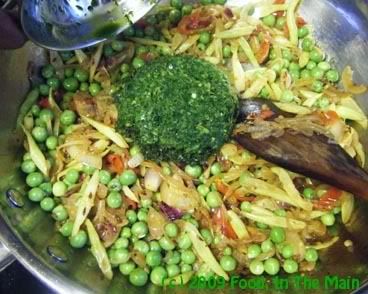 and let it fry till the raw smell goes (about 3 minutes).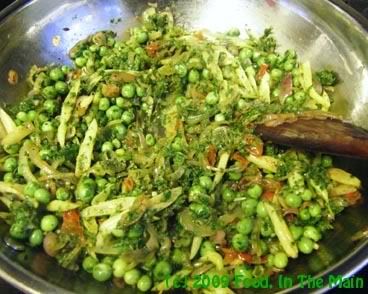 4. Add the soaked rice (without the water), stirring it into the vegetable mixture, keeping the heat med-high. Be careful not to let it "catch" and burn.




5. Once the rice begins to turn opaque, add 2 cups water and salt to taste.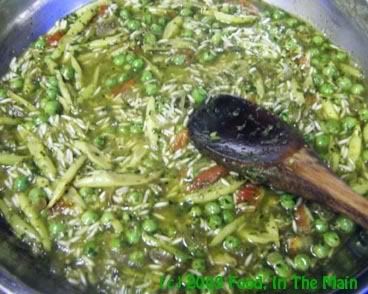 Bring this to a bubbling boil, then turn the heat right down and cover the pan with the lid. Let it cook on the lowest heat for 20 minutes, then turn the heat off and let the pulao sit undisturbed for another 15 minutes.




After that, uncover the pan, fluff up the rice with a fork and serve with raita and/or something crunchy on the side.