Last week was a busy one, socially speaking, and we went out for dinner three times in the week – quite out of the norm for me, because I don't care to eat out much. Or rather, I get easily bored with restaurant food, no matter what the cuisine, so the occasional meal out is much more to my liking than eating out often.

After having been to two "Indian" (read Bangladeshi) restaurants, and one birthday party with a buffet-style spread, both Pete and I were craving simple comfort food. However, the term "comfort food" represents entirely different things to me and Pete – no surprise considering that I was brought up on standard South (and some North) Indian vegetarian cuisine, and Pete on just as standard English fare.

One of my few talents is that I am capable of is making both kinds of comfort food – which ability my husband doesn't share. (Just as well, otherwise he'd be perfect, and perfection is a quality that I can't really come to terms with because to me it denotes "smug and/or boring".)

What was I saying? Oh yes, comfort food. Pete's comfort food is shepherds pie, and mine is home-style simple food, preferably based around rice. So I made shepherds pie for Pete, and for myself, dal – a simple, very basic, fuss-free and gentle-on-the-digestion dal, enlivened by the sharp freshness of lemon juice and aromatic with a tempering of ghee-fried cumin seeds. That dal over plain steamed rice was, for that meal, absolutely perfect.

What? I'm not being contrary. I have nothing against perfection in food - in fact, I try actively to achieve it. Perfection in human beings is what I can't live with. Are we clear now?

Recipe for:
Light gingery lemon dal




Ingredients:

1 cup yellow moong dal
2 small tomatoes, chopped
1 onion, chopped fine
1 tbsp fresh ginger root, grated
1 fresh green chilli, slit vertically from the tip
1/2 tsp oil
1/2 tsp ghee
1 tsp cumin seeds
1/2 tsp coriander powder
2 tbsp lemon juice (or to taste)
Salt to taste
Chopped coriander leaves for garnish

Method:

1. Pressure cook the moong dal and chopped tomatoes with 1-1/2 cups water for 3 whistles. Reserve.




2. Heat 1/2 tsp oil in a pan and add the chopped onions and green chilli. Cook on a low flame till the onions soften. Don't let them brown.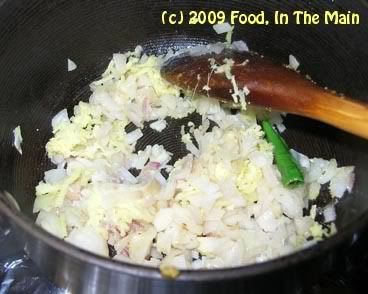 3. When the onions are cooked, add the cooked dal and mix in. On med-high heat, bring the dal to a gentle boil.




4. Meanwhile, heat the 1/2 tsp ghee in a small pan and add the cumin seeds and coriander powder. Let the seeds turn a darker aromatic brown (about 30 seconds).




5. Pour this tempering immediately on the bubbling dal and turn off the heat. Add salt to taste and 1 tbsp lemon juice, stir it in and taste for sourness. Add more lemon juice if required.




Serve hot over plain boiled rice, with any spicy, dry vegetable preparation.