There is a slight – very slight – downside to growing your own herbs… the fact that there is so MUCH of them to use up during the growing season. The fact that most herbs are seasonal and die down during the winter is another pinprick to my gardening soul – if only because of the guilt of not using them as much as possible. You know, the sort of guilt generated by an inner voice that goes "You complained about not having your own herbs, now you have them you're not using them, you're letting them go waste, use 'em up, use 'em up, use 'em upppp!").

Much as I love my fresh herbs, coriander is the one that I use the most and can't grow enough of, especially as it is not the "cut and come again" kind of herb. I do grow maybe a couple of batches of coriander in the summer, but it's usually quicker and more convenient to just buy a bunch from the supermarket.

Other herbs which I use reasonably frequently are basil, chives and mint. I have three kinds of mint and like I've said before, this year they're growing wild. If they were not container-grown, they would probably have taken over the entire backyard – possibly like
triffids
, only fresh smelling (and also not poisonously carnivorous, unlike triffids).




Anyway, I've been using up more mint this summer than I ever have before, in an effort to quieten my brain's guilty yammering and make use of at least some of the bounty – mint chutney, minty rice in several forms, salads, and so on. I made this rice a short while back, using up the last of my own fresh coriander, and some of my golden variegated mint. I didn't make a paste of the herbs this time, just sliced them into as thin ribbons as possible and used them like that – I suppose it made a difference in that the taste was not so in-your-face-herby as when the mint is ground up. .

PS. I'm not so bothered about my mint plants now, as they have started flowering and there are bees, wasps and assorted other insects gorging themselves on the flowers. (Also, the hovering insects make it a bit dicey for me to pick the mint – I'm not brave or stoic about being stung!)

Recipe for:
Herby onion rice with almonds




Ingredients:

1 cup basmati rice, soaked for 20 minutes and cooked al dente and cooled
2 medium onions + 4 shallots (optional)
1/2 cup coriander leaves
1/2 cup mint leaves
1 tbsp ginger, grated
1 tsp cumin seeds
2 tbsp skinned slivered almonds
1 tsp coriander powder
2 tbsp sultanas
1 tsp oil
1 tsp ghee
Salt to taste
Method:

1. Slice and onions and shallots thinly.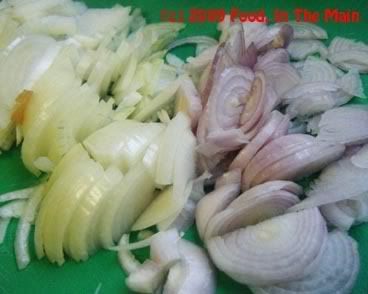 2. In a wide pan, heat 1 tsp oil and add the coriander powder and grated ginger. Fry for 30 seconds or till the ginger goes a darker shade of brown.
3. Add the sliced onions + shallots and cook them slowly on a medium-low flame with 2 tbsp water,

till softened and lightly caramelised (about 8 minutes).
4. Add the chopped herbs along with salt to taste and stir-fry till they wilt.
5. Add the cooked rice and gently fold in with a large spatula, taking care not to break or mush up the grains.
6. In a separate, small pan, heat the tsp of ghee till melted, then add the sultanas and stir till they swell up and go golden brown. Remove from the ghee, squeezing them gently with a spoon against the side of the pan to let the excess ghee drip away. Reserve.
7. To the ghee remaining in the pan, add the cumin seeds and the slivered almonds,

stirring with a spoon till the almonds take on a pale gold colour and the cumin seeds are aromatic.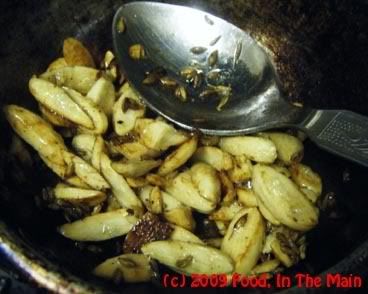 7. Add the almonds and sultanas to the rice and mix in.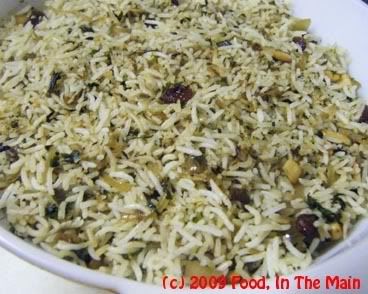 8. Serve hot with a spicy curry.