This recipe is one that I overlooked posting, for one reason or another, although I made it a few months ago. My most favourite kind of gourd (or pumpkin) goes by the Tamil name of
vella pooshanikkai (white pumpkin), and is apparently known as ash gourd or winter melon
in English. A really rather ravishing halwa is also made with this vegetable, usually served at South Indian wedding feasts – but that is not what I made.

Anyway, ash gourds are not available north of London, as far as I'm concerned and even then, I think, available only at South Indian or Sri Lankan greengrocers. Since I live in the Midlands (which is not really far north, but is northern enough for Londoners, I'm sure), I can go for years (and have done) without ever laying eyes on an ash gourd.

My most favourite thing to make with ash gourds is kootu, cooked with chana dal – an incredibly simple preparation.




The most work involved is in prepping the vegetable for cooking, by removing the somewhat jelly-like mid-section which contains the seeds and chopping the firm flesh of the gourd into small cubes.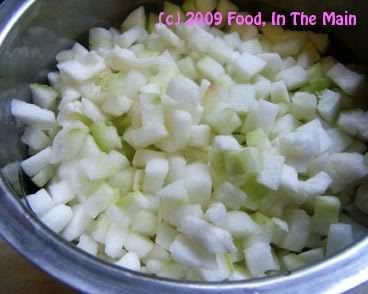 After that, it's easy peasy. This kootu is versatile (in my house anyway) as a side-dish with sambar and rice, or with chapaties, or over plain rice as a simple meal.

Recipe for:
Pooshanikkai (ash gourd) kootu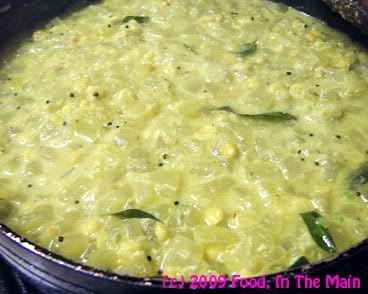 Ingredients:

2 cups ash gourd, cut into small cubes
1/2 cup chana dal
1/2 tsp turmeric powder
3 tbsp fresh grated coconut
3-4 green chillies
1/2 tsp cumin seeds
1 tbsp rice flour
1 tsp mustard seeds
2 tsp urad dal
5-6 fresh curry leaves
1 tsp oil
1/4 tsp asafetida powder
Salt to taste

Method:

1. Put the chana dal at the bottom of a pressure-cooker-safe vessel, add the cut ash gourd pieces and the turmeric powder, and 3/4 cup water.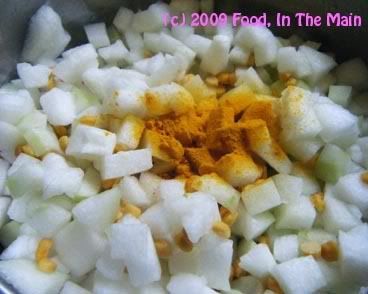 2. Pressure-cook this for 3 whistles, let the pressure reduce naturally. The ash gourd pieces will be translucent when the cooker is opened.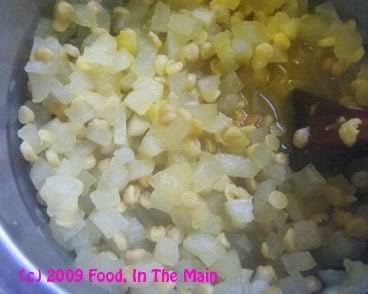 3. Grind the coconut, green chillies, rice flour and cumin seeds to a smooth paste using 3-4 tbsp hot water.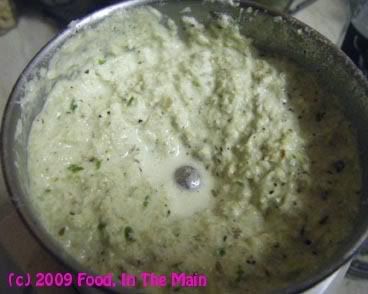 4. In a pan, heat the oil and add the mustard seeds, asafoetida powder, urad dal and curry leaves and let them fry till the seeds pop and the dal is golden brown (30-40 seconds).
5. Carefully pour the cooked pumpkin/gourd along with the cooking water into the pan and stir well.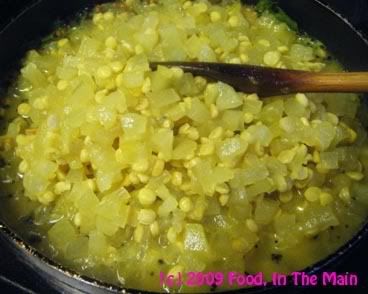 6. Now add the ground coconut paste and stir it in along with salt to taste. Add a little more water if required (depending on the consistency you want for the kootu.)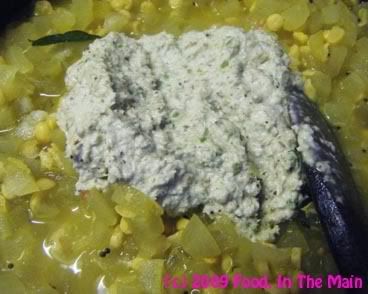 Bring the kootu to a gentle boil and simmer for 2-3 minutes. Serve hot.