I have a favourite new snack – baked vegetable pakodas (fritters). Granted, they don't look like traditional pakodas, and possibly they don't taste traditional either (read "deep-fried") – but boy, they DO taste really good. Actually you might as well call them savoury cookies because I flattened them for more even baking. Whatever (a rose by any other name and all that...), these are extremely more-ish when fresh, with dips.

These pakodas become kind of chewy and hard the next day, but I liked them that way nevertheless. But then I'm odd like that. So if you're not like me, eat 'em fresh. I dont know if they would soften when re-heated in a microwave, because I didn't try that for myself. (But if you do, let me know what happens, please.)

Recipe for:
Baked vegetable pakodas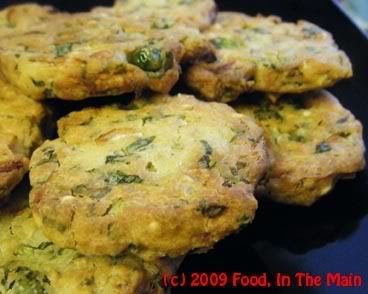 Ingredients:

1 small potato, boiled and grated
1/2 cup fresh peas
1/2 cup green beans, chopped 1/2cm thick
1/2 cup spinach leaves, sliced
1 medium onion, chopped fine
10 cashew nuts, chopped
1/4 cup chopped coriander leaves
1/4 tsp cumin powder
1 tbsp sesame seeds
1 cup gramflour (besan/chickpea flour/kadala maavu)
1 cup rice flour
1/2 tsp chilli powder or 2-3 fresh green chillies, minced (optional)
Salt to taste
1 tbsp oil
Water as required

Method:

1. Preheat the oven to 180C.

2. Microwave the green beans and peas for 4 minutes on full power with 4 tbsp water.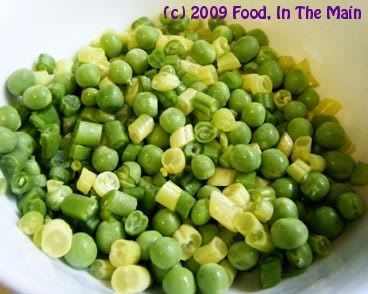 Transfer to a large bowl.

3. Add the grated boiled potato, spinach leaves, chopped onion, cashew nuts, coriander leaves, cumin powder, sesame seeds and mix well.




4. Add the rice flour and gram flour along with salt to taste.




5. Mix with your hand now, adding water little by little until the dough comes together and you can make small balls with it. Do NOT make the dough watery. It should be thick and will be a bit sticky.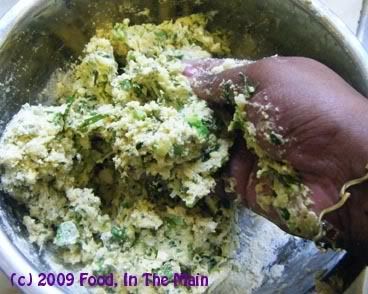 6. Heat the oil till it's smoking, then pour onto the dough.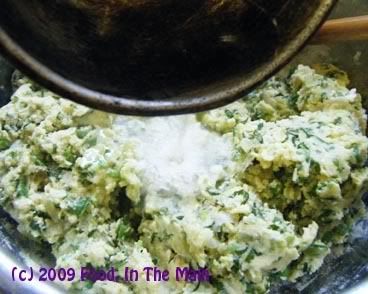 Wait a couple of minutes for it to cool before mixing it into the dough (or use a spatula).

7. Line a couple of baking trays with silicone or non-stick paper and additionally spray it with Pam or similar non-fat spray. Make small balls of the dough, place on the tray and flatten evenly with your fingers. You might need to wipe your fingers clean every so often.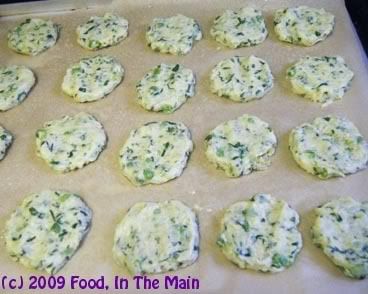 Spray the tops of the pakodas with a spritz of Pam, then bake in a 180C oven for 15 minutes.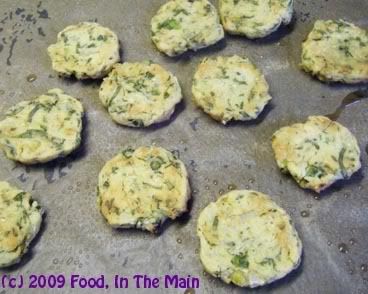 After that turn them over, and bake for another 15 minutes or till the pakodas are lightly browned on top.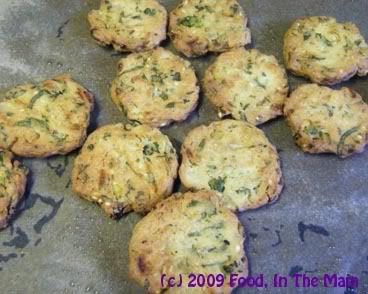 If you like them to be crisp, bake for a few minutes longer (but keep an eye on them).

8.Serve warm, with or without dips, as a snack.