Hello to my readers, bloggers and non-bloggers both, on the first day of the new year, and the new decade! Here's hoping that the year brings everybody only the best of everything, and lots of love and laughter too.

I thought I'd start the first post of 2010 with a recipe for something sweet - a simple snack cake, chunky with tart apples and crunchy with toasted pecans. You can't go wrong with it (fingers crossed as I say this, though, because I'm a prime example of someone who can make a disaster of success!) and it's good just by itself, or for a more decadent dessert, serve warmed, with a dollop of thick organic Jersey cream, sprinkled with glittering demerara sugar, if you like.

Recipe for:
Apple pecan snack cake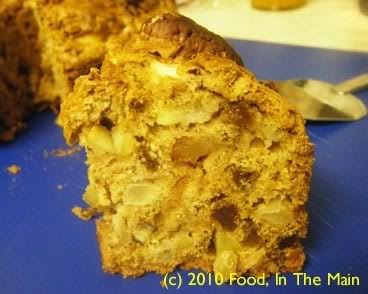 Ingredients:

3 tart apples, cored and chopped
1 cup sugar
1/2 cup raisins
1/4 cup pecans, toasted lightly and chopped + 10 or so whole toasted pecans for decorating cake (optional)
1/4 cup oil
2 tsp vanilla extract
1 large egg, beaten
2 cups AP flour
1 tsp baking soda
1/2 tsp baking powder
1 tsp cinnamon powder
1/2 tsp cardamom powder (optional)

Method:

1. Preheat oven to 350F/180C. Spray a 7" round cake pan (I used a bundt pan) with Pam or other spray.

2. In a large mixing bowl, combine the apples, sugar, raisins and chopped pecans.




Mix well and let stand for 30 minutes.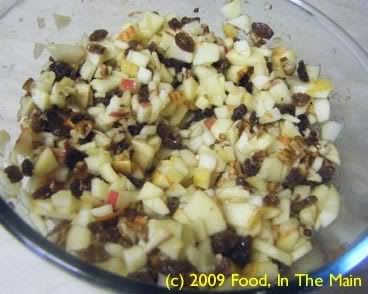 4. In a small bowl, add the oil. vanilla and egg.




Whisk till well combined.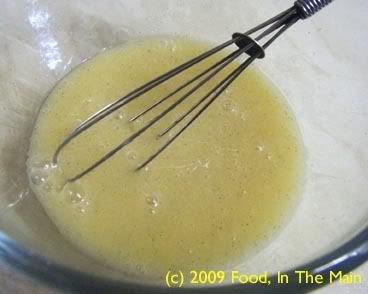 5. Pour this mixture into the apple mixture and stir in.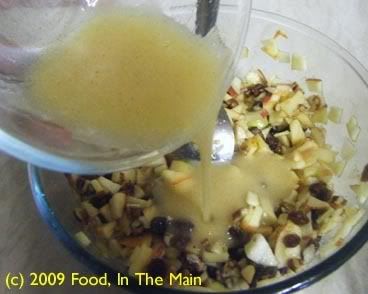 6. Sift together the flour, baking soda and powder, cinnamon and cardamom powder (if using).




7. Stir the flour mixture into the apple mixture about a third at a time. Stir just enough to moisten the wet ingredients - dont over mix.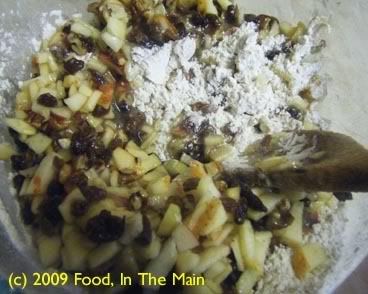 8. Pour the batter into the pan.




Arrange the remaining whole pecans decoratively on the top. Push them in only very slightly.

Bake for 35-40 minutes or till a tester comes out clean and the cake has pulled away from the sides of the pan.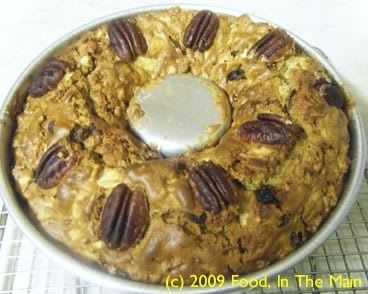 Let the cake remain in the pan for 10 minutes, then turn out onto a wire rack to cool.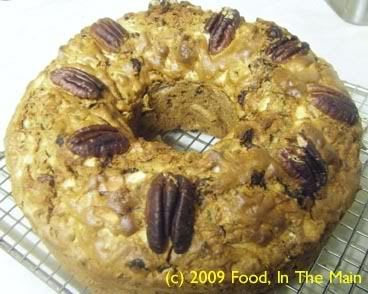 Serve warm by itself, or with some cream if desired.