If someone gave you an orange, an apple, some brewed coffee, cloves and some honey, would your first thought be: "Oooh, now I can bake a cake!"? No? Thought not.
No surprise, it would certainly never have crossed my mind that these were actually ingredients for a very special cake, had I not come across these items in a recipe on the Net, led there by a series of blog hops (starting with Shankari & Rajesh's blog,
Sacramento Spice
, where she has a regular feature called "Sundays with Marlena Spieler", showcasing Jewish recipes).

Eventually I moved on to google for general information on Jewish culture and Jewish food traditions, and pretty soon I was goggling at a cake recipe that called for the apparently random selection of ingredients I'd mentioned earlier. This cake is traditionally baked on the Jewish New Year, or Rosh Hashanah, and symbolises a sweet start to the year.

When I made the cake, even knowing that it was from a tried and tested traditional recipe didnt stop me wondering how it would turn out. I had to use a small can of mandarin orange rather than the whole fresh orange (peel pith and all) the recipe called for (because I didnt have it), and I substituted strong instant coffee for the brewed stuff (because ditto)... and decorated the top of the cake with whole pecans, but those were the ONLY changes from the original.

The cake was surprisingly good - surprising to me, because I couldn't help considering the combination of ingredients somewhat outlandish - very moist and with deep flavours, and it stayed that way for the couple of days that it survived before being demolished.




It's too late - or maybe too early? - to offer good wishes for a happy Jewish New Year (because it occurs around September)... and it's wee bit too far into this new year 2010 as well for new year wishes, but I'll take the opportunity to wish everybody many happy cake experiences, both baking and eating, for the year and the decade to come. I can do that, can't I?

Recipe for:
Honey cake




Ingredients:

1/4 cup vegetable oil
1/4 cup dark brown sugar
1/4 cup dark honey
1 egg




1 small orange, left unpeeled and cut up small (I used a small tin of chopped mandarins without peel)
1 small apple, cored and chopped (no need to peel)
1/2 cup strong brewed coffee (I used instant)
1-1/2 cups flour
3/4 tsp baking soda
1/2 tsp baking powder
1/4 tsp allspice
1/4 tsp cinnamon
1/8 tsp ground cloves
1/8 tsp salt
1/4 cup raisins
15-20 whole pecan nuts (optional)

Method:

1. Preheat oven to 350F/180C. Spray a nonstick 1.5 pound loaf pan with Pam.

2. In a large bowl, combine the oil, sugar, honey and egg.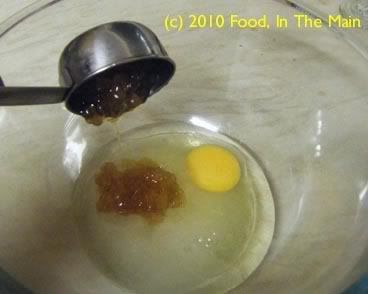 Beat till mixed. (I used a manual beater).




3. In a blender, combine the orange and apple, add the coffee




and puree the mixture. It doesn't have to be very smooth.




4. In another bowl, place the flour, baking soda, baking powder, spices and salt.




5. Add a third of the fruit and coffee mix to the oil-honey-egg mixture, stirring well.




6. Add a third of the flour mixture, stirring again.




Continue adding in this manner till all the ingredients are combined.




7. Add the raisins and stir them in.




8. Pour the batter in a loaf pan. Arrange the pecan nuts on top, pressing them very gently into the batter.




Bake for 35-40 minutes, or till a cake tester or toothpick inserted in the cake comes out clean.

10. Let the cake stay in the pan for 5 minutes, then turn out onto a wire rack and cool completely.




Serve at room temperature.