This is the karela recipe I was being so mysterious about, about a month ago or so. Those of you who do NOT remember
what I was being mysterious about
, please click on the link for a memory refresh. (Oh, the things I do for the convenience of my readers...! Might I have made a new follower, perhaps, or even two, by being thoughtful and ironic? One does so hope so.)

So yes, this is yet another karela recipe - and what's more, I have another one up my sleeve (a post, not a karela), although that is not as radical as this one. This, though... this is THE most radical recipe I've ever made featuring this bitter vegetable, and I have to say that it really tested my karela-love. I would definitely consider this to be the penultimate conclusive test of karela-love, no question. The ultimate conclusive test, of course, being the willing consumption of fresh-squeezed karela juice. (You'd have to strap me down for that one, I reckon, and force-feed me it through a tube.)

This is an Oriya recipe, which I got from
here
and I consider myself very brave to have used Indian karela, which is way more bitter than the Chinese karela used in the original. Okay, the truth is that I would probably have used Chinese karela too, if only I'd had it handy. But I didn't. Chinese karela is much less knobblier on the outside and much less bitter on the inside than the Indian variety.

Anyway, the reason I tried this recipe is because it uses mustard paste – and I love the sharp tangy taste of mustard paste and mustard oil. It's a
fairly recently discovered love
, just short of a year old, actually.

Perhaps the end result would have been less bitter if I'd done the salting-waiting-squeezing routine that removes some of the bitterness from this vegetable, but I didn't. Call it foolhardiness. However, I still liked the end result – I know, I know, shocking! The mustardiness was as yummy and nose-clearingly sharp as ever, underlaid by the bitterness of the karela. I just couldn't eat the mustardy karela on its own, though. It needed toning down with cold curd rice... which turned out to be the perfect combination, in the end.
(Total "karela" usage count in one post: 13, including this one. Do I get an award?)
Recipe for:
Mustardy karela




Ingredients:

2 cups bittergourd, sliced into rounds
Oil for pan frying (about 3-4 tbsp)
2 tbsp rice flour
1/2 tsp turmeric powder
salt to taste
3 tbsp mustard seeds
3-4 fresh green chillies (or to taste)
3 cloves garlic

Method:

1. Dry grind the mustard seeds and then add chillies, garlic and water.




Make a thick paste with a little water so that it can coat the bitter gourd completely.




2. Steam-cook the sliced bittergourd with a few tbsp water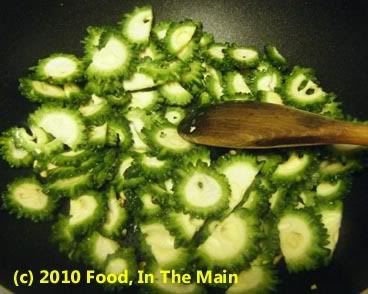 till done, but not mushy.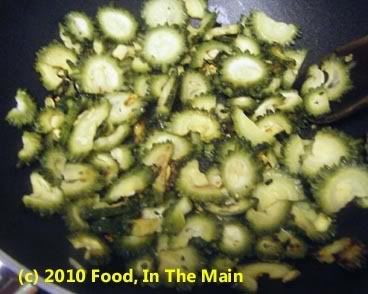 3. Mix the mustard paste with the cooked bitter gourd.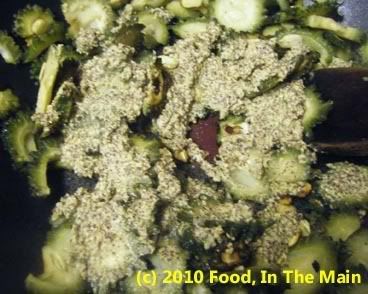 4. Then add the turmeric, rice flour and salt to taste.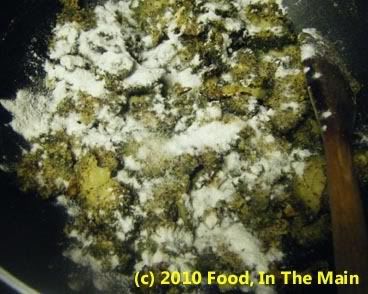 Mix in till evenly distributed.

5. Heat 3-4 tbsp oil in a shallow frying pan. Add the bitter gourd, spread them out gently,




and fry the pieces on both sides till crisp and well done.

6. Serve as a side dish with rice and dal.