I've always liked kootu with lots of dal in it, even when some of the kootus have plenty of cooked and mashed dal in them to start with. If any time my mother made vazhakkai kootu, for instance, which has cooked mashed tur dal to thicken it, I would still want lots of cooked-but-firm chana dal in it, as well as plenty of crunchy fried urad dal in the tempering. Nothing less would do.

I like lots of urad dal tempering in dry vegetable dishes too, and always have. And because I do my own cooking, I'm at perfect liberty to use vast quantities of any dal I like without anybody questioning the authenticity of what are meant to be traditional recipes.

Still, I'm not so wrapped up in my own quirks that I don't realise that other people might not share my preferences, so I usually tone down the quantities of dals in the recipes I publish on this blog, in the hope that I (and my recipes) will come across as normal to readers. (I'm not entirely sure that the ploy works, though. Does it?)

This kootu is pretty simple, and you can use pretty much whatever vegetables you have at hand (but I wouldn't recommend okra, fresh or frozen). I use a pressure-cooker to cook the vegetables and dal together, but if you don't have one, or don't like to use it, the dals can be cooked separately, the vegetables steamed or boiled separately, and then brought together from Step 7. I'd recommend the pressure-cooker, though - it makes things much simpler.
I personally feel that the dals make it not only nutritious but also very tasty. Have the kootu over rice, with a couple of microwaved appalam/poppadums and any pickle (I recommend mango thokku) and a cup of yogurt on the side, and you will discover one of the many ways to gain entry into my personal foodie heaven.

Recipe for:
Two-dal vegetable kootu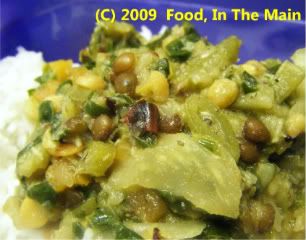 Ingredients:

2.5 cups vegetables cut up small (I used cabbage, carrots, runner beans, potatoes and spinach)
1/4 cup chana dal
1/4 cup whole masoor dal
1/2 tsp turmeric powder

2 dried red chillies, chopped up fine
1 tsp oil
2 tbsp urad dal
2 tsp brown mustard seeds
1 tsp cumin seeds
1/4 tsp asafoetida powder (optional)
Salt to taste
About 2.5 cups water, or as required
Grind to a smooth paste:

3 tbsp grated fresh or frozen coconut (thawed)
4-5 green chillies (or to taste)
1/2 tsp cumin seeds
1 tbsp rice flour

Method:

1. If using cabbage, shred finely. Chop up any other vegetables you're using into small even-sized pieces.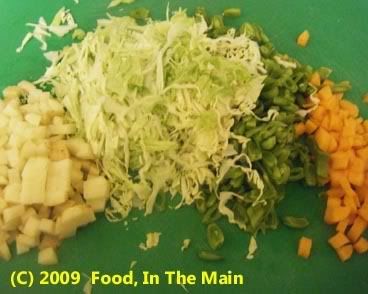 2. Wash the two dals in cold water.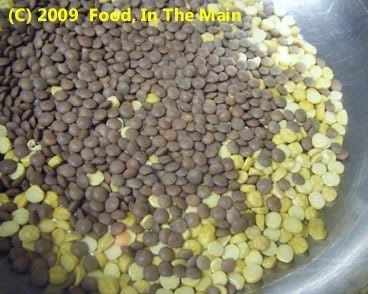 3. In an appropriately sized vessel that can go in your pressure cooker, place the dals at the bottom, then add the "hard" vegetables (like potatoes, carrots, etc), and finally the easy-cook vegetables like cabbage and frozen peas. If using spinach, DO NOT add to the vessel at this point.




Top with the turmeric powder and add enough water to just about cover the vegetables.

4. Pressure-cook for three whistles, and let the pressure drop naturally before opening the cooker.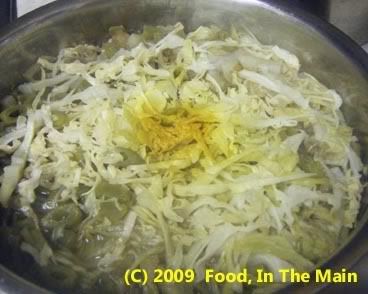 5. In a pan, heat the oil. Add the mustard seeds, chopped dried red chillies, cumin seeds, urad dal and asafoetida powder. Cover and let the mustard seeds pop (about 30 seconds). The urad dal should have turned a golden brown.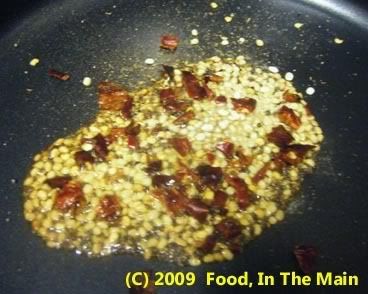 6. Add the spinach leaves now (if using)




and stir fry till it is wilted but still green.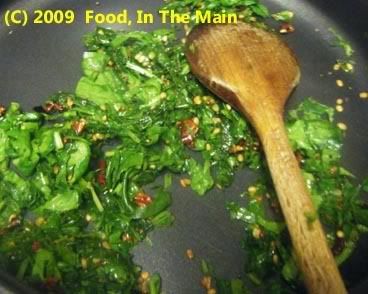 7. Lower the heat and add the cooked dal + vegetables to the pan (the liquid will sputter, so be careful).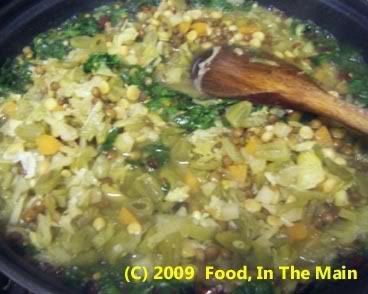 8. Pour in the ground coconut masala.




Add salt to taste and mix well. Add more water if required (the kootu can be thick or a bit runny, depending on your taste. I keep it thick if it's a side dish for rotis or chapatis, and a bit runnier if it's to be served over rice.)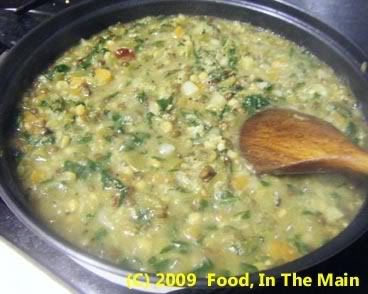 9. Serve hot over plain steamed white rice, or with chapaties.