Take-out. Take-away. Call it what you will, all it means is that you're going to be eating something cooked in some pokey little kitchen by Bangladeshi cooks (most likely if it's a takeaway in the Midlands) who labour under the misapprehension that a bucketload of oil is a good substitute for taste and flavour. I might be doing a disservice to the rare takeaway place which doesn't follow this rule of thumb, but on the whole, my statement holds true, sadly enough.

I don't see why takeaways shouldn't be able to do good, healthy, wholesome food, considering they have at hand all the resources they need. Various friends have asked me – probably only in jest – why I don't start my own takeaway, but the thought just doesn't appeal. I do like cooking, but if I had to do it all day every day, whether from home or a business premises, I would come to hate it very quickly.
(I admit that about the only activity - if you can call it that - I could or would do all day, every day, all the time would be reading... but nobody's paying me to read books just for personal enjoyment, more's the pity.)

Anyway, since I had a couple of packets of okra from India (

via Tesco, of course - "eat local" doesn't even come into the question!

) to use up and Pete likes okra, I decided to make a restaurant-style side dish – with plenty of green chillies (fried separately) for myself, and with no chillies for him. Both versions were just so simple but tasty.
To harp away on the same topic, I honestly don't understand how the takeaway chefs could oilify (new word there) a basic dish like this and ruin it. Shame that most takeaway eaters will never realise what they're missing in the way of authentic fare. If they only knew...

Recipe for:
Take-away style bhindi (okra) bhaji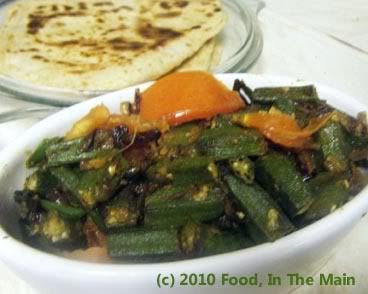 Ingredients:

500 gm okra (about 4 cups, sliced 1" long)
2 small onions
2 small tomatoes
1 large garlic clove, sliced into thin matchsticks
3-4 green chillies, sliced diagonally into strips
2 tsp cumin seeds
1 tsp coriander powder
1/2 tsp turmeric powder
1 tsp Kitchen King masala (or use garam masala)
Salt to taste
2 tsp oil


Method:

1. Slice the tomatoes into 1/2-cm thick wedges and slice up the onions thinly.




2. Heat the oil in a pan and add the cumin seeds and turmeric powder; fry for 20 seconds. They should become a darker shade of brown.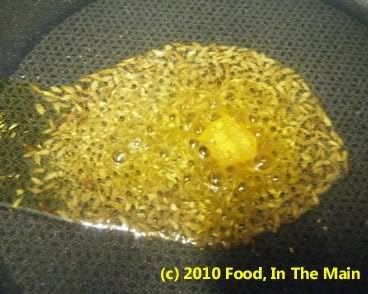 3. Add the sliced onions and garlic, and green chilli strips (if using), and stir-fry till they begin to turn translucent, about 5 minutes.




4. Now add the okra and stir it in. Let it cook on medium-high heat, stirring once in a while.




5. Once the okra is cooked and the onions are nicely browned, add the tomato wedges.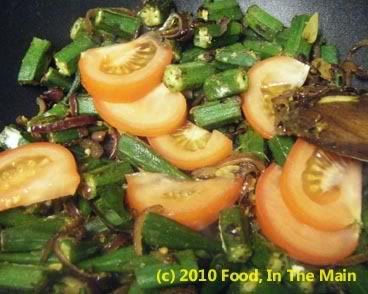 6. Stir-fry on high for 2-3 minutes or till the tomatoes JUST begin to soften. They should not get mushy. Add the Kitchen King/garam masala and salt to taste, and mix it in. Cook the okra for another couple of minutes. Serve warm with chapaties and any dal.