Squashes and pumpkins - especially the yellow kind - are usually prized by people who love them for their sweetish taste. Me, I'm kind of meh about them for precisely that reason... they're not quite sweet and not quite savoury either, and when you roast them they turn squidgy. (Parsnips, which are also kind of sweetish, at least have the decency to turn crisp on the outside when oven-roasted, so I tend to like those. But squashes... they just squash.)

Anyway, I've bought butternut squashes before and let them sit around till even they were too awful to be used (and believe me, they take a very very long time to get that way because of their incredibly hard outer skin or shell), and then thrown them away. This time I was determined to use the squash, so after 15 minutes of determined - and sometimes downright dangerous - sawing, I had the squash halved vertically, to see its innards for the first time ever with my own two eyes (four if you count my contact lenses).

Once the thing was peeled, it was a doddle. It roasted without any trouble and I made the soup without any trouble either. I cooked up some masoor dal for protein and pureed that with the roasted squash as well. Pete liked the soup quite a lot, although I was a bit ambivalent about its taste, myself. It was, as I had known it would be, a bit too sweet for me even with the addition of plenty of ground pepper. But even Pete had to admit that the caramelised onions and croutons were what raised the stakes in the soup arena. Without those savoury garnishes the butternut squash soup would have been just too... yup, you guessed it, sweet.

Recipe for:
Roasted butternut squash soup with caramelised onions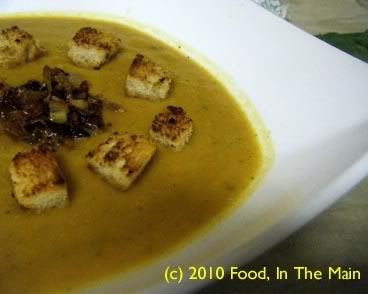 Ingredients:

1 medium butternut squash
3 cups vegetable stock
1 medium onion, chopped
1/3 cup evaporated skim milk
1/4 tsp cinnamon
1 tsp black peppercorns, freshly ground to powder
2 cloves garlic
1/4 cup masoor dal
2 tbsp olive oil
a few toasted herbed croutons for garnish (NOT optional)
salt to taste

For caramelised onions:
1 small onion, very thinly sliced
1 tsp butter
2 tsp sugar

Method:

1. Preheat the oven to 350F/180C.

2. Cut the butternut squash in half lengthwise and scoop out the seeds and stringy bits with a spoon.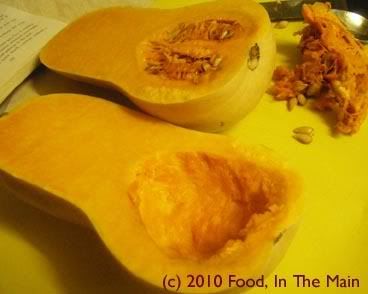 Peel the squash and chop it into 2" chunks.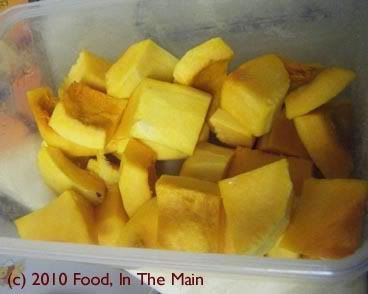 Roast, uncovered, until the squash is soft - about 45 minutes, but check to see.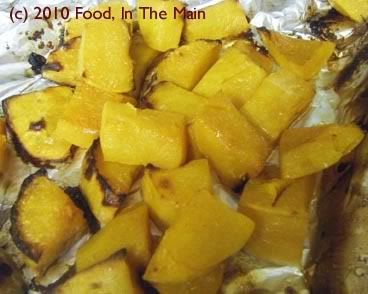 3. Heat 1 tbsp olive oil in a pan and sweat the garlic and chopped onion until slightly translucent.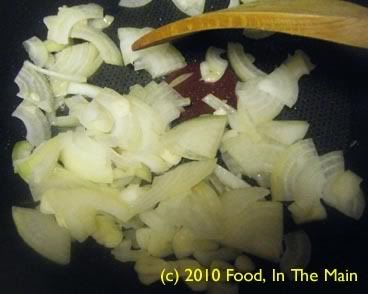 4. Add the stock and masoor dal along with the cinnamon.




5. Let this bubble gently on medium high heat until the lentils are nearly transparent and soft.




Set aside to cool.

6. In the meantime, heat the butter in a small pan.




Let it melt and turn golden brown (be careful not to burn it), then add the sliced onion.




Turn down the heat and let the onions soften slowly, stirring now and then, till they're soft and caramelised to a golden brown. This should take about 10 minutes or so.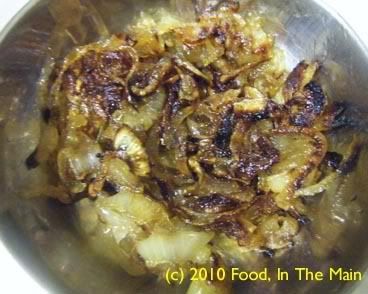 Reserve the caramelised onions for garnish.

7. Now scoop out the cooked lentils along with half the cooking liquid,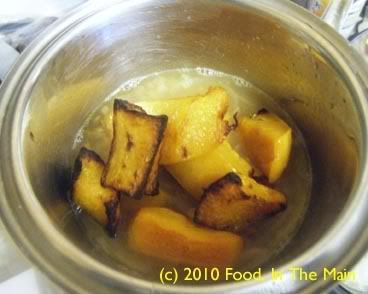 and blend to a puree along with the roasted squash.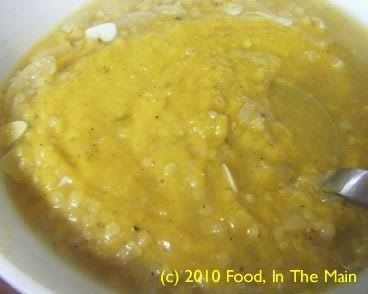 8. Return the blended vegetables to the pan containing the remaining cooking water and stir it all till well mixed.

9. Pour in the evaporated milk and stir it in.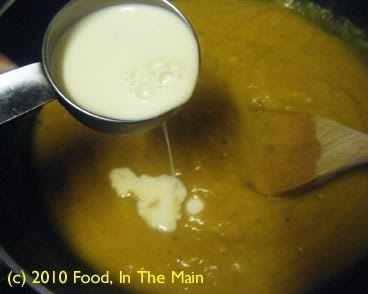 Bring to a gentle simmer,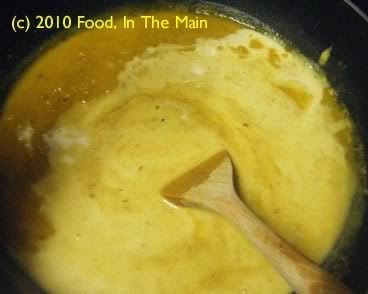 then add the freshly ground black pepper and salt to taste. Stir it in. Let the soup simmer for 2-3 minutes longer, then switch off the heat.

10. Serve the soup in warmed bowls topped with some caramelised onions and the croutons.