I was planning to make this post about coconut-coriander chutney as an accompaniment for idli - and then decided to post a quick recipe for idli batter as well, encouraged by a specific request for it. (Hey, it's nice to be asked - it's usually me that does the asking of my ever-patient mom!)

Making idli batter is a simple affair nowadays, because I know where to get the ground rice (or idli rava) for it. The traditional way is to make it by soaking a certain kind of rice (puzhungal arisi) in water, but I dont have a proper wet grinder that would make it easy to grind the rice. I use my trusty Sumeet mixie instead, and idli rava is a lot kinder to its motor! (I live in perpetual dread of my mixie breaking down - that would be a catastrophe beyond description!)

Anyway - my recipe for idli batter is 4 cups of idli rava or ground rice (I use the Natco brand)to one cup of de-husked urad dal. (If you use the dal with husk, you get idlis with black spotty bits. Not very nice to look at but just as edible as white idlis. Ask me. I speak from experience.)

I've also tried using basmati rice in place of the puzhungal arisi, but although it works for making dosas, idlis turn out sticky and too doughy for my liking. I dont think using rice flour for the batter would be successful either - the result would be the same as with basmati rice. Ground rice or idli rava is best, as it is somewhat coarser in texture and gives idlis their slightly grainy look.




When a South Indian thinks idlis, it's always accompanied by
sambar
,
molagapodi
and coconut chutney. These three are a must. Tomato chutney and onion chutney are optional but welcome extras and, outside of a hotel, a total indulgence if made at home at the same time as the other accompaniments!

Since I bought a coconut yesterday, I had to use up about half a cup of frozen grated coconut that I was storing. That, along with the remnants of a bunch of coriander, made for a pretty, green chutney that was just right with my idlis. I "seasoned" the chutney with fried mustard seeds, urad dal and curry leaves, so that makes it South Indian style. If I'd added ginger root to the coconut while grinding, and lemon juice after (instead of the seasoning), it would have been a North Indian style chutney. Small and subtle changes in preparation, but BIG change in taste. Hurray for variations!

Recipes for:
Coconut-coriander chutney and idli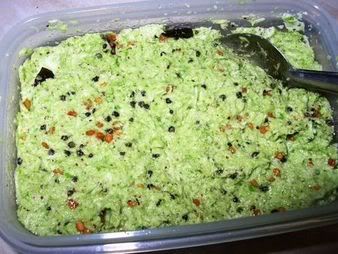 Ingredients:

1/2 cup fresh grated coconut
4-5 green chillies (or to taste)
2 tbsp fresh coriander leaves, coarsely chopped
Salt to taste

For seasoning:
2 tsp oil
1 tsp urad dal
1 tsp mustard seeds
4-5 curry leaves, torn in half
pinch of asafoetida

Method:

1. Grind the coconut, green chillies, coriander leaves and salt in a spice or coffee grinder to as smooth a paste as possible.

2. Turn the blended coconut into a bowl.

3. Heat the oil in a small pan with a lid. When the oil is hot, put in the mustard seeds, urad dal, curry leaves and asafoetida. Stir and cover.

4. Once the mustard seeds have popped and the urad dal is a reddish gold in colour, pour it on top of the chutney at once. Mix well and serve with hot idlis or dosas.

Idli:

Ingredients:

4 cups idli rava
1 cup urad dal (de-husked)
Salt to taste
Water as required

Method:

1. Grind the urad dal to a smooth paste, using as little water as possible (use cold water). The urad dal should make a thick batter that drips very slowly off a ladle.

2. Make a fairly thick batter of the idli rava and two cups of water. This can be less thick than the urad dal batter, but should not be runny.

3. Mix the two batters together thoroughly in a big bowl, adding salt to taste. The bowl should be only half full, or maximum 2/3 full, to allow for the batter to ferment and rise.

4. Cover and let rise in a warm place for about 8 hours or overnight. If you live in a cold place, this might take as long as 18 hours. I usually heat my oven to 100C first. Then I turn it off, leaving the light on for warmth, and place the bowl of batter in the oven, leaving it to rise.

5. Once the batter is risen, stir it well. If you have an idli stand or mould, grease the cups and pour a ladleful of batter into them. If you dont have a mold, use a flat shallow vessel with a rim and pour the batter into it (the batter should be about 3/4" high in the vessel).

6. Steam it for 12-15 minutes (if using a pressure cooker, DONT use the weight). Let cool for about 5 minutes, then unmold carefully, using a thin-edged spoon to remove the idlis. Serve hot.