Arent they CUTE? :)




With such adorable mini-loaf pans, is it any surprise that I wanted to make banana bread very very extremely much? They were a gift from my brother-in-law's girlfriend and I fell in love with the little things right away. There was also a recipe for bana-carrot cake from Cooking Light that I badly wanted to try. What else could I do but bring the two together and make banana-carrot mini loaves. Or rather, 6 mini loaves and one square cake that I cut into bars. Voila! - banana-carrot cake bars!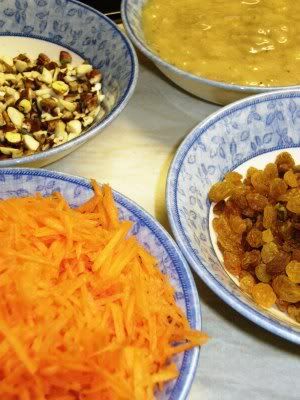 I will confess right away, I didn't expect this cake to turn out so heavy... but considering it uses no eggs and only 1/2 cup oil for the batter, I guess I should not have been quite so surprised. However, I was more than pleased with the flavour, and I loved the texture, dense and chewy, made even more so by the chopped nuts I used. The loaves were more like flapjacks, really. Yum-MEE! We just couldnt stop eating them, believe me.

I guess this would have been a really low-calorie recipe but for the nuts... but I wouldnt have left them out for the world. Sorry, Cooking Light magazine!

Recipe for:
Banana-carrot cake bars (adapted from Cooking Light magazine)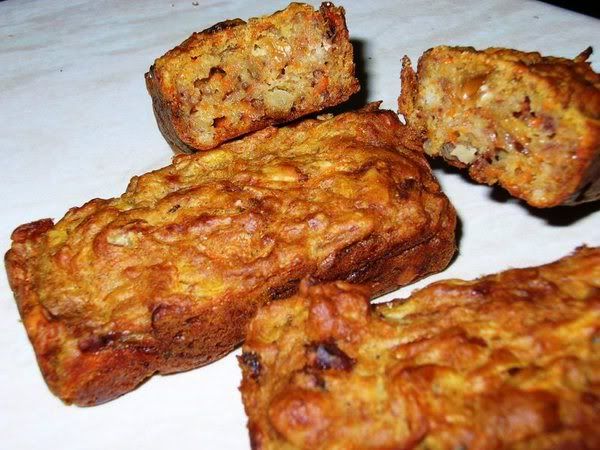 Ingredients:

Three large bananas, mashed smooth
2 generous cups grated carrot
2-1/4 cups flour (I used 1 cup white, 1-1/4 cup wholewheat)
1/2 cup oil
up to 1 cup brown sugar (I used 1/2 cup Splenda and 1/4 cup brown sugar)
1/2 tsp crushed/powdered cardamom seeds
1 tbsp baking soda
1/2 cup mixed chopped nuts (I used pecans, pistachios and almonds)
1/2 cup golden sultanas
1/4 tsp salt

Method:

1. Preheat the oven to 180C (350F), and grease an 8" square cake pan (or about a dozen mini pans, if you have them).

2. Sift the flour, salt and baking soda in a large bowl.

2. Add the rest of the ingredients to the flour and cut in lightly, the mix until the batter is moistened. Add a few tbsp milk if the batter is very thick.

3. Pour the batter in the greased pan and bake for 45-50 minutes or until the cake tests done.

4. Cool in the pan for 10 minutes, then turn the cake out onto a wire rack. Cut into bars when cool. Store in an airtight tin.