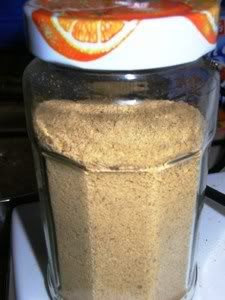 I guess there are as many recipes for molagapodi as there are people who make it... and I'm happy to try out all of them (the recipes, obviously!).

For a change, I have no objection (hallelujah!?) to coconut as one of the ingredients of molagapodi - in fact, my mother has a recipe for thengai (coconut) molagapodi that's particularly yummy. Probably handed down by my paternal grandmother, who was apparently a wonderful cook. It's just a pity that I have hardly any memories of her, much less her cooking.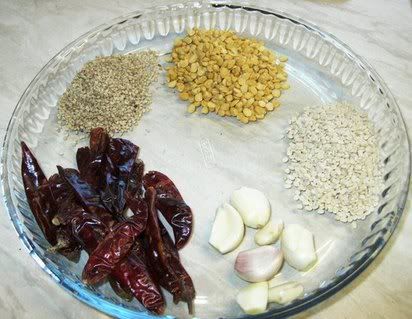 Anyhoo, I like using lots of sesame seeds in my recipe, and sometimes - like this time - I throw in a dozen pods of garlic while roasting the dals. I like the garlic flavour to be right there at the forefront, fighting with the sesame seeds, but if you want a shyer, less obvious garlicky taste, use fewer pods.

Gingelly oil is favourite to mix with this molagapodi, but I'm sure ghee would work as well.

Recipe for:
Garlic-sesame molagapodi for dosa/idli


Ingredients:

1 cup urad dal
1 cup gram dal (bengal gram/kadalai paruppu)
10 dry red chillies (or to taste)
2 tbsp sesame seeds
10 garlic pods, peeled and sliced
1/4 tsp asafoetida (optional)
5-6 curry leaves (optional)
Salt to taste

Method:

1. Dry-roast the urad dal and gram dal in a pan over medium heat until they turn golden. Set aside to cool.

2. In the same pan, roast the sesame seeds next, till they give out a nice smell. They will pop if the heat is too high, so keep it on medium-low. Set aside to cool.

3. Finally, heat a 1/2 tsp of oil in the pan and fry the sliced garlic pods, the curry leaves and the red chillies till the chillies begin to turn a darker colour and then turn off the heat.

4. Once all the ingredients get to room temperature, grind them to a powder that is the texture of sand, add salt to taste and mix well.

5. To serve as an accompaniment for idlis or dosas, put a tsp or so of the molagapodi on a plate and mix with a tsp or two of gingelly oil or melted ghee, as per taste.