Funnily enough, there isnt much I can say about this recipe (do I hear a collective sigh of relief?) :) It's simple, filling, aromatic, low-fat and has plenty of vegetables - not much else to ask of a dinner dish, is there? This pulao is one step down from a khichdi, the missing ingredient being tuvar dal. I didnt add it because I wasnt sure if the tuvar dal would cook completely in the microwave.

I'm a bit wary of cooking dals in the microwave because the one time I tried it with tuvar dal, it made an unholy mess when it bubbled over in the oven - and it STILL was only half-cooked. While lots of things are nice al dente instead of mushy, tuvar dal is not on that list.

We had this nearly-khichdi vegetable pulao with a simple tomato raita, but it would be just as nice with coconut chutney or some spicy pickle alongside.

Recipe for:
Microwave vegetable pulao


Ingredients:

1 cup basmati rice, soaked in warm water for 30 minutes
2 cups mixed chopped vegetables (any combination of green beans, carrots, spinach, cauliflower, peas, etc)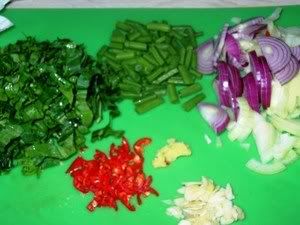 1 onion, sliced thin
1 bay leaf
1 medium-hot red chilli, sliced into very thin rings
3-4 green chillies, slit (optional or adjust to taste)
1/2 tsp garam masala
1 tsp cumin seeds
1 tsp slivered garlic (2-3 pods)
1 tsp ginger root, grated
2 tsp oil
Salt to taste
1 tbsp coriander leaves, to garnish
Handful of roasted/fried cashewnuts, for garnish (optional)

Method:

1. Heat the 2 tsp oil in a pan and add the bay leaf, garlic, grated ginger, slit chillies, sliced red chilli and cumin seeds. Fry for 30 seconds or so, stirring continuously.

2. Add the garam masala and onions and stir-fry till they start turning soft, then add the vegetables and stir again.

3. Drain the rice and add that to the pan as well and fry for 2-3 minutes.

4. Add 2-1/4 cups water and salt to taste. Pour it all into a microwaveable bowl and cook it for 15 minutes or so on high without a cover. (Start with 10 minutes and see if the vegetables and rice are cooked - the cooking time depends on the wattage of the oven.)




5. Cover the bowl and let the pulao rest for 5 minutes. Just before serving, fluff the rice up gently with a fork and sprinkle the chopped coriander over. Also top with the fried cashewnuts, if using.

Serve hot with chilled tomato-yogurt raita.

Quick tomato raita:

1 ripe tomato, chopped fine
1 cup cold yogurt (Greek-style, for preference)
1/4 tsp salt
pinch of garam masala (or
molagapodi
if you have it)

Mix together and serve as an accompaniment for the pulao.