Say pumpkin, and immediately the garish orange one comes to mind - the one that's hollowed out to make Jack o' Lanterns for Halloween. I guess it's eaten a lot in the US during Thanksgiving - made into pies and cookies and cakes and casseroles and goodness knows what else. But orange pumpkins arent my favourite - the white ones are. That is, translucent white on the inside, and green on the outside.

White pumpkin seems to be a vegetable eaten mostly by Tamilians... it's one of my favourites when made into kootu (using ground coconut to flavour the gravy and bring the cooked vegetable "together") following my mother's recipe.

I'm not sure if it's particularly popular elsewhere (except when making aviyal, I suppose) in India, because the last time I visited my mother when she was living in Hyderabad, we didnt find white pumpkin in the vegetable shops for love or money. And the one time that I spotted a pumpkin, the shopkeeper refused to sell us a portion of it - it was all or nothing. Since a whole pumpkin is a waste of a purchase for just two people - even for two people who love it! - we had to leave with nothing.

But a reasonable substitute for white pumpkins - which I have never seen in the UK - is the chayote squash... or Bangalore kathirikkai, as I knew it in Madras. It's a slightly strange looking vegetable, puckered up on one side, but it tastes great when made into kootu.


Chayote squash, or Bangalore kathirikkai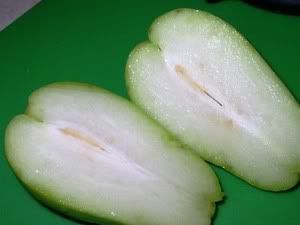 What it looks like cut lengthwise



It's nice as a side dish with vatha kuzhambu/sambar and rice, fantastic as an accompaniment for rotis and pretty darn good over plain rice as a main meal. That's what I had yesterday for my dinner - chayote squash kootu with rice and microwaved appalams. Homey, filling and healthy!

Recipe for:
Chayote squash (Bangalore kathirikkai) kootu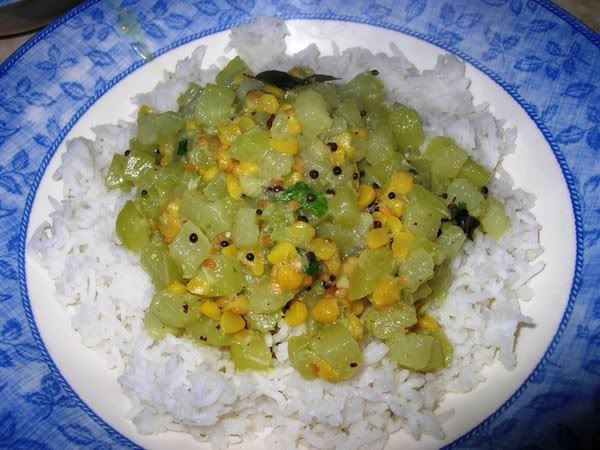 Ingredients:

2 cups chayote squash, chopped evenly into small cubes
1/4 cup gram dal (chana dal/kadalai paruppu)
Two pinches of turmeric powder
Water

For the coconut paste:

2 tbsp fresh grated coconut
4-5 green chillies (or to taste)
1/2 tsp cumin seeds
2 tsp rice flour

For the tempering/tadka:

1 tsp mustard seeds
1 tsp urad dal
1 tsp cumin seeds
a few curry leaves
pinch of asafoetida
2 tsp oil
1 tbsp chopped coriander leaves for garnish (optional)
Method:

1. Put the chopped squash and the chana dal in a saucepan and pour in just enough water to cover the vegetables fully.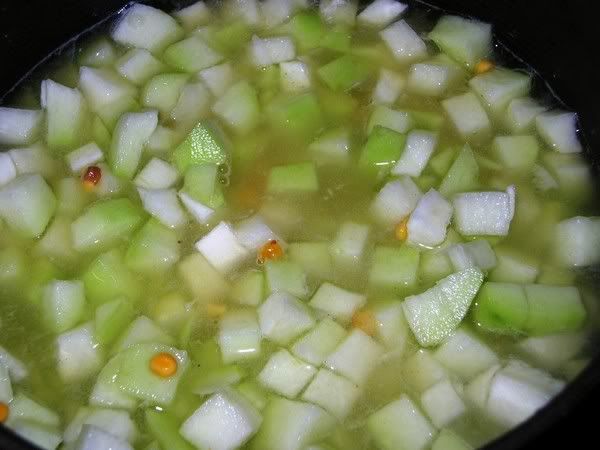 2. Add the turmeric and stir, then cover the pan and bring the water to a boil. Turn down the heat to a slow simmer till the chana dal is cooked but still retains its shape, about 15-20 minutes. (Test by squashing a kernel of dal between your fingers - if it mashes easily, it's done.) Keep an eye on the water level so that it doesnt fall below the level of the vegetable. The squash should be cooked by then as well.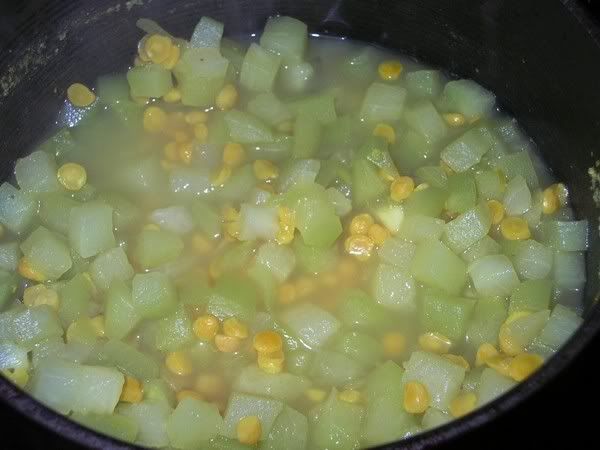 3. Meanwhile, grind the coconut paste ingredients into a smooth paste using some warm water (about 3-4 tbsp).

4. Add the paste to the cooked vegetable along with salt to taste, and mix well. Let the kootu simmer for 3-4 minutes.

5. In a small pan with a lid, heat 2 tsp oil and add the tempering ingredients, then close the pan. Wait till the mustard seeds have popped and the cumin seeds and urad dal have changed colour, then pour directly onto the kootu. Mix well and take the kootu off the heat.

6. Garnish with chopped coriander leaves and serve with rice or chapatis/rotis.