Adai is the heavier protein-rich cousin of the more common dosa. I dont think adai is anywhere near as well known as dosa is in North India, because it's so much more common in the south. Keralites eat it with aviyal, a coconut-and-vegetable medley cooked with buttermilk or sour curds - an acquired taste which I confess I havent mastered yet, whether it's the making or the eating. My mother makes aviyal with a tamarind base, which I prefer - but that's not what this post is about!

To get back to adai - it's basically made with by grinding together a combination of rice and different dals - thuvar, channa & urad - and I'm sure the proportions of the dals and rice vary from household to household. The good thing is that the batter doesnt need to ferment before it can be used - although, again, some people prefer to let it ferment for a few hours before making the adai. Some people add grated or chopped coconut to the batter (my opinion on that, as always, is "Bleaaurrrgh"), and others vary it by adding chopped onions.

I remember my grandma making adai on a cast-iron flat pan - she would make the very first dosa or adai a baby-sized one, to check whether the heat was right to cook the batter and to make sure it didnt stick to the pan. That first baby one used to be my particular delight. When she made the bigger ones, she would poke four or five little holes in the batter after spreading a ladleful in the pan, into which she would pour a little oil or ghee. This was to make it cook quicker and more evenly and of course to make it crisp. I dont need to do that since my trusty non-stick tava works just fine without any extra oil added.

In my family, adai was traditionally simply served with softened pieces of jaggery. I didnt use to like that much then, but I quite like it now.

Recipe for:
Thaval adai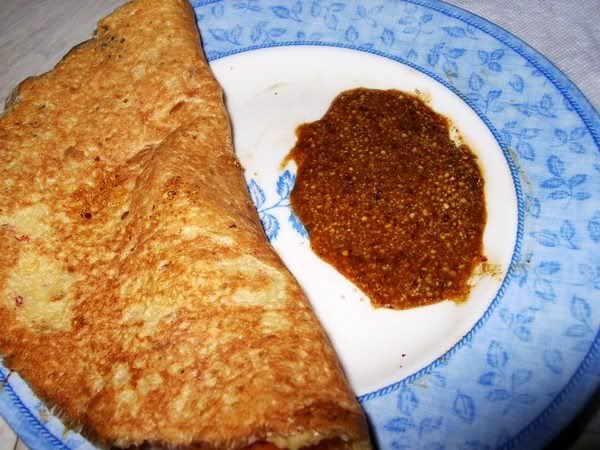 Ingredients:

2 cups rice
3/4 cup chana dal
3/4 cup thuvar dal
1/2 cup urad dal
10 dried red chillies (fewer if you like it less hot)
Salt to taste

For the tempering:
1 tbsp cumin seeds
10 curry leaves
1/2 tbsp black peppercorns, crushed (optional - I didnt use it)
1/4 tsp asafoetida powder
1 tbsp ghee or oil

Method:

1. Soak the rice and dhals together for 8 hours or overnight.

2. Grind them with the red chillies and salt, using water as required to make a coarse thick batter.

3. Heat the ghee or oil in a small pan and fry the cumin seeds, peppercorns and curry leaves, adding the asafoetida after 30 seconds.

4. Pour into the batter and mix well.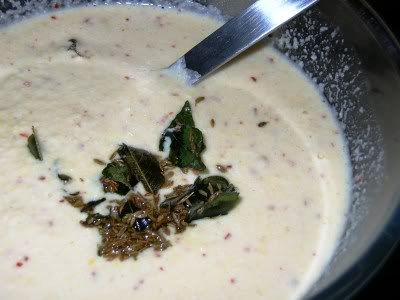 5. To make the adai, pour a ladleful of the batter onto a heated non-stick tava or flat pan.

6. Spread it out into a circle using the back of the ladle, using a concentric motion. It can be as thick or thin as you like, but thicker adais take longer to cook.




7. You can pour a half tsp of oil around the edge of the adai while it is cooking, but this is not required if you're using a non-stick pan.

8. Cook till the adai is golden on one side, then flip it over and cook till that side acquires golden spots as well.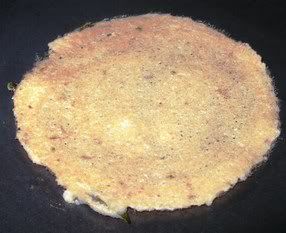 9. Serve hot with softened lumps of jaggery (traditional) or with coconut chutney and thick yogurt or curds. If you like, you can even have it with idly podi, like I did.