A simple cake, very easy to make, with a delicate flavour, reasonably low-fat (I dont know how to calculate nutrition values, though) because I used Splenda instead of sugar and very low-fat Greek yogurt - what more is there to say? Oh yeah, that it's rather nice with a cup of coffee, as testified by Pete.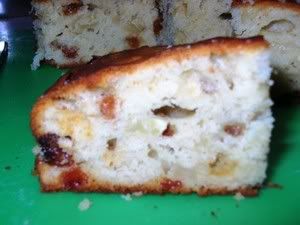 Recipe for:
Yogurt cake with almonds and sultanas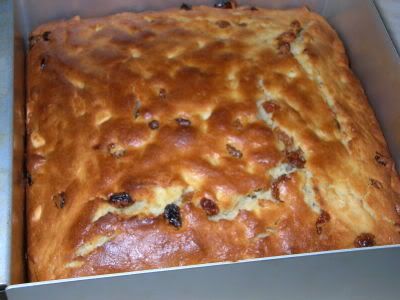 Ingredients:

2 cups flour
2 eggs
1 cup low-fat yogurt
1 cup white sugar (I used Splenda)
1/2 cup vegetable oil
1 tbsp baking powder
1 tsp vanilla extract (or paste, for an even more authentic flavour)
1/4 cup almonds, chopped and lightly toasted
1/4 cup golden sultanas
1 tsp rum extract (or essence)

Method:

1. Pre-heat the oven to 180C (350 F). Line the bottom of a round or square 9" cake pan with silicone paper, and grease the sides.

2. In a big bowl, combine the yogurt, eggs, Splenda/sugar and flour.

3. Add the rest of the ingredients and fold lightly till it's all well-mixed.

4. Pour into the prepared tin and bake for 45 minutes or so, or till a cake tester inserted in the centre comes out clean.

5. Cool in the tin for 10 minutes, then turn out on to a wire rack and let cool completely before cutting.