http://sweetnicks.blogspot.com/2006/03/arf5-day-tuesday-10.html#links
After a load of fancy dishes, it's very satisfying for the soul (and the stomach) to have something simple on the plate. Cabbage with peas, cooked with a minimum of spices, is favourite with rice and dal. If I'm having this veggie combination with chapaties, I usually add a sliced red onion or two. I dont use the supersweet petit pois type - I prefer the larger, more robust garden peas. And for this particular dish, I prefer to cook them straight from frozen.

As for the cabbage, I've almost given up using white cabbage - it's SO smelly compared to sweetheart cabbage (the pointy kind) or just any green variety. I like the purple ones for some things, because of the pretty colour, but on the whole I like the leafy green kind best. I dont like soggy cabbage, so I dont cook mine for long.

I usually use one or two finely-chopped green chillies so as to maintain the green and fresh look, but this time I used red chilly powder, which is why the brownish tinge to the cooked cabbage.

I missed ARF/5-a-day Tuesday #9, rather to my regret - was too busy/tired/fed up to cook, so Pete was chef... and he really cant be bothered to take photographs, more's the pity, because he made some delicious stir-fries. I can only say that I didnt miss out on my 5-a-day portions, even though I didnt do any cooking.

I'm back now, though (as might have been noticed... anybody?) :) So here's my simple entry for this week's ARF/5-a-day event.

Recipe for:
Green cabbage with peas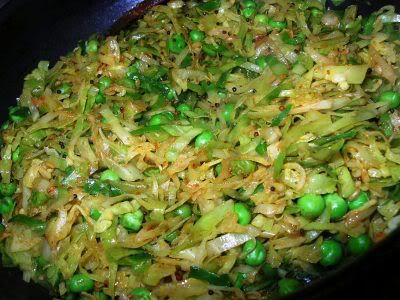 Ingredients:

1 medium green cabbage, shredded
1 cup frozen garden peas, unthawed

For tempering:

1 tsp urad dal
1 tsp mustard seeds
1 tsp oil
1/2 tsp red chilli powder or 2 fresh green chillies, chopped fine
pinch of asafoetida (optional)
salt to taste

Method:

1. Heat the oil in a wide pan and pop the mustard seeds and urad dal. If using green chillies or red chilli powder, add that now and stir for a few seconds.

2. Add the shredded green cabbage and mix well.

3. Toss in the frozen garden peas, cover the pan and lower the heat as far as it will go. Let the cabbage cook for 5-7 minutes.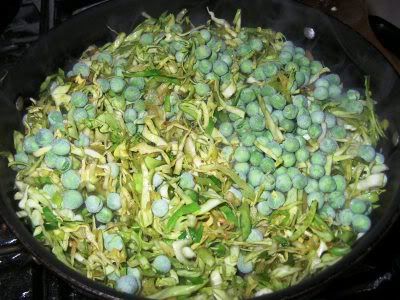 4. Check the peas - once they're cooked, the dish is ready.

5. Add salt to taste, mix and serve hot as a side with plain rice and sambar.