I love parathas, but I havent had the greatest success in making them myself. Invariably when I try to roll out a ball of dough filled with stuffing into a nice round paratha, what happens is that the uncooperative filling squirts out the edges. If I exert less pressure, the paratha doesnt roll out, looking instead like a dented pillow. More pressure, and the filling makes its triumphant reappearance, attaching itself to the rolling pin (ugh) and messing up my rolling board as well, looking something like this:




Ever tried getting mashed potato (mixed with bits of dough) off anything? It's not a pretty sight and definitely not an easy task. The saddest part is that the paratha doesnt evolve into anything edible.

So I evolved my paratha-making technique instead, neatly side-stepping the ball-of-dough-with-filling-nearly-enclosed route by the simple method of cheating - that is, I roll out one two thin chapaties, spread the stuffing on the one, cover with the other and seal all around, then cook this double-chapati (a.k.a paratha) with a little ghee till it's nicely spotted golden brown all over.

So it isnt exactly the traditional method... but it works just fine!

PS. If anybody is interested in knowing how exactly a proper paratha is made, please check out Saffron Hut's
fabulous post


Recipe for:
Potato stuffed paratha (alu paratha)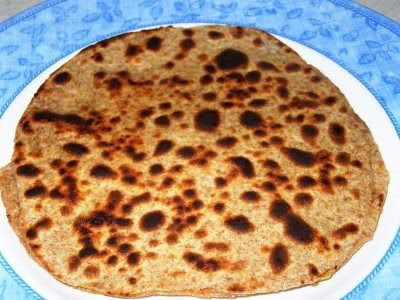 Ingredients:

For the paratha:

3 cups wheat flour
2 tbsp oil or ghee
Water as required to make a stiff but pliable dough
Extra flour for dusting

For the potato stuffing:

2 large potatoes, peeled, boiled and mashed
1/2 tsp ginger-garlic paste
1/2 tsp cumin powder
1/2 tsp coriander powder
1/4 tsp garam masala
1/2 tsp ajwain (carom) seeds
1 tsp red chilli powder (optional)
OR
3 fresh green chillies, minced very fine
3 tbsp coriander leaves, chopped
1 tsp oil
Salt to taste

Method:

1. Heat the oil, add the ginger-garlic paste and fresh green chillies (if using) and fry for 20 seconds.

2. Then add the cumin and coriander powder, the garam masala and ajwain seeds and fry for 30 seconds.

3. Put in the mashed potatoes, salt and coriander leaves and mix well.

4. Heat through, then allow to cool.

5. Pinch off two lime-sized pieces of dough and roll into balls. Roll each ball out into a thin chapati, using flour to dust if required, to stop it sticking.

6. Take a generous tbsp of the stuffing and spread it over one chapati till about 1/2 inch from the edge.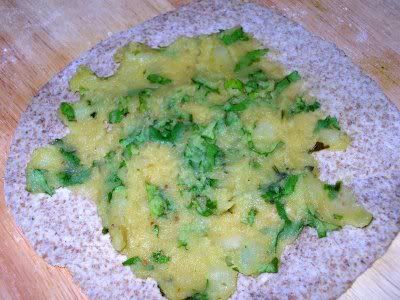 7. Take the other chapati and put it on top of the first one, pressing down gently but firmly (especially around the edges) to make them stick together. At this point you can use a pizza cutter to make the paratha square (looks nicer and removes uneven edges). I didnt bother to do this, but I'm lazy.

8. Carefully remove the paratha and place on a hot tava or frying pan that has been greased with a little oil. Let it cook for 15 seconds on that side, then turn it over with a flat spatula and spread some ghee or oil over that side. Turn it over again after 15 seconds and grease that side as well.




9. Let the paratha cook on medium high until it acquires golden brown spots. Repeat with remaining dough.

10. Serve hot with any pickle and a dollop of thick Greek yoghurt on the side.