Kothimbir vadi is a snack from Maharashtra, made with coriander leaves, and methi na muthia is a snack from Gujarat, made with methi or fenugreek leaves. Both are basically made more or less the same way, and the ingredients are similar too.

I had half a bunch of coriander leaves and a bit of methi leaves - not enough to make either dish using just one or the other. But together, they made enough vadi as starters for four people. Three of them, who had never eaten these savoury, intensely flavoured vadi before, would have happily eaten twice as much after the first tasting, only there wasnt enough - it was that good!

The recipe I followed was pretty much
Nupur's
, except for minor changes (like using methi leaves!). By the way, the list of ingredients might look dauntingly long but the actual making is simple as simple can be. Really.

Recipe for:
Coriander-methi vadi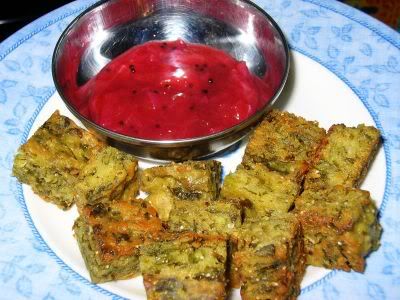 Ingredients:

1 cup coriander leaves, chopped fine
1 cup methi leaves, chopped fine
1 cup chickpea/gram flour
2 tbsp. rice flour
1/4 cup wheat flour + millet flour (if you have it)
4 green chillies, minced fine
1 tsp ginger-garlic paste
1 tsp sesame seeds
1 tsp poppy seeds
1 tsp turmeric powder
pinch of asafoetida
1 tsp garam masala
1/2 tsp baking soda
1 tsp sugar
Juice of 1/2 lime
salt to taste
Oil for shallow-frying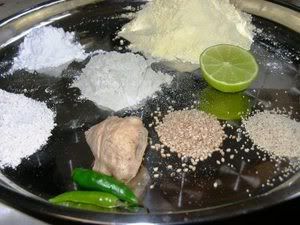 Clockwise from top right: Poppy seeds, sesame seeds, ginger, green chillies, wholewheat flour, rice flour, millet flour, gram flour. Oh, and half a lime.

Method:

1. In a large bowl, mix together all the ingredients except the oil.

2. Use just enough water to make a thick batter, stirring well to break up any lumps.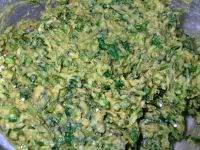 3. Grease a flat plate or a vessel with a wide flat bottom and pour the batter in to a depth of about half an inch. If required, divide the batter into two portions.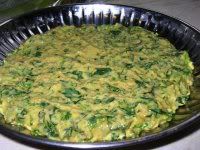 4. Steam for about 30 minutes in a pressure cooker (without the weight) or in a steamer.




5. Let the steamed batter cool, then cut into squares.

6. In a wide shallow pan, heat 4-5 tbsp oil. Shallow-fry the vadi in batches, turning them over carefully until they get golden brown spots.

7. Serve hot with any chutney. They are also yummy cold. Lovely for picnics.