Easy as chips. And yummy as low-fat can be. Need I say more?

Actually, I can answer that myself. I DO need to say more, if only to mention that I didnt use a knife to remove the peel - I used a peeler, which means that only a light scraping of the skin was required. I had in mind the guest post on
home-made plantain chips by Vijay-garu (husband of Indira - Mahanandi)
. He had left some of the skin on, and the resulting chips looked really nice.

Now of course I didnt fry my chips, but the principle was the same... and they ended up really tasty (despite the unhappy/disapproving expressions on their faces), with the slightly thicker skin adding a nice crunch.

What can I say but thank you, Mr Vijay! :)

Recipe for:
Oven-baked banana chips



Damn, those chips are making a lot of sad faces, arent they?



Ingredients:

2-3 green bananas
2 tsp oil, or oil-spray as required
Salt to taste
Spices to taste (I used chilli powder and coriander powder)

Method:

1. Cut the ends off the bananas and scrape the skin lightly with a vegetable peeler.

2. Slice into 1/4-cm thick rounds.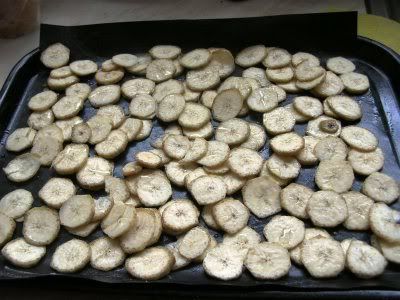 3. Heat the oven to 180C (350F).

4. In the meantime, toss the sliced bananas with some oil, or arrange them on a tray covered with non-stick baking paper, and spray with oil-spray.

5. Bake in the oven for 15 minutes or so, then turn the slices over and spray them again.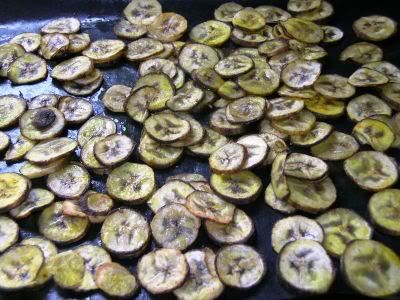 6. Cook till the banana slices are crisp and brown (be careful that they dont burn).

7. Toss with spices of choice and let cool. Serve as a snack or as a side dish with any rice meal. Store in an airtight container.