Another simple and homely dish for the overworked palate, and redolent of home and everyday food. Not - as ever - that I liked this combination when I was younger... but age, wisdom and about 5,000 miles of separation from home have brought about a radical revolution in the things I like. Which, to cut the story short, is most of the things I used to DISlike back in the days of my youth.

What I like about making kootu is that you can add as many as or as few vegetables you like, in any proportion and in any combination - the decision is up to you and your fridge's contents. I opted to finish up the cabbage that was waiting its turn patiently in my fridge, and added a potato to keep it company. I would have thrown in some green peas for colour but - horrors! - I had run out of the lil fellas and had to do without.

Do I hear gasps of disbelief? Do your hearts palpitate in unbearable suspense, wondering what I did in such a distressing situation? Not to worry, gentle readers, because I sent my husband out at once to fill the void. Yes, my freezer is once again stocked with that which it so woefully lacked. Once again, I am content.

Peas be in the homes of all who read this.

Recipe for:
Cabbage-potato kootu


Ingredients:

1/2 small head cabbage, chopped
1 medium potato, cubed small
1 tbsp chana dal, soaked in hot water for 10 minutes
1/4 tsp turmeric powder
1 tsp mustard seeds
1 tsp cumin seeds
7-8 fresh curry leaves
1 tsp oil
Salt to taste

For the ground masala:

2 tbsp fresh grated coconut
1 tbsp poppy seeds (khus-khus), soaked in a little warm water for 10 minutes
2 green chillies
2 dry red chillies (or to taste)
1/2 tsp coriander seeds
2 fat garlic cloves
1 tsp cumin seeds

Method:

1. Cook the cabbage, potato, soaked chana dal in a covered pan on low heat, adding enough water to just cover the vegetables. Stir in the turmeric powder.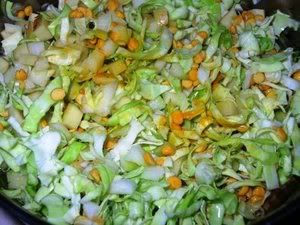 2. Meanwhile, grind the masala ingredients to a smooth paste using just enough warm water to help grind it.

3. Once the vegetables are cooked and soft, add in the ground masala, salt to taste and stir well. Let it simmer gently for 5-6 minutes.




4. In a small pan, heat the oil. Add the mustard seeds, cumin seeds and curry leaves, cover the pan and let the seeds pop.

5. Pour this hot seasoning over the kootu and stir. Serve hot over rice or with chapatis.