Finally got a chance to make thengai molagapodi - I've been wanting to do so for ages, but couldnt find a suitable coconut. Last week I got lucky - so here's the result.

This is the recipe my mother gave me, and there are no changes at all. No substitutions either, not even wrt the tamarind. I usually use tamarind paste in my recipes, for convenience, but not this time. A large marble-sized piece of dried tamarind fruit, she'd said, so a large marble-sized piece of dried tamarind was what I used - and with the expected excellent result.

Recipe for:
Thengai molagapodi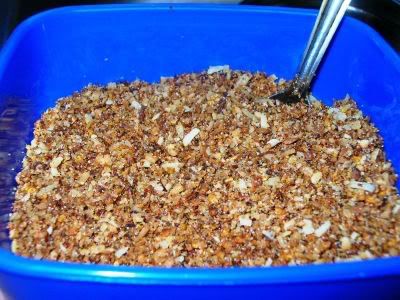 Ingredients:

2 cups fresh grated coconut
2 tbsp chana dal
2 tbsp urad dal
7-8 dried red chillies (or to taste)
1 large marble-sized piece of dried tamarind
Salt to taste
1/4 tsp asafoetida powder (optional)
1 tsp oil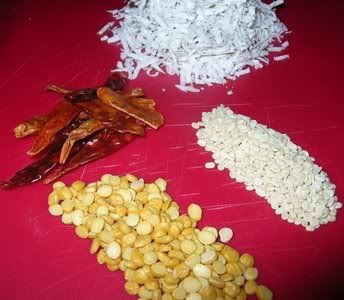 Clockwise from top: Grated coconut, urad dal, chana dal, dried red chillies



Method:

1. Heat the oil in a wide pan. Fry the chana dal, urad dal and red chillies till the dals turn golden brown and the chillies are shiny dark red. Remove from the oil and set aside.





2. In the same pan, roast the grated coconut over medium heat, stirring frequently.





3. Roast the coconut until the gratings are a golden brown and give off a nice roasted aroma. This will take at least 10 minutes - dont rush the process and be careful not to burn the coconut.





4. Let it cool, then dry-grind the chillies, dals and tamarind as finely as possible.

5. Add the toasted coconut and salt to taste, and grind to a slightly coarse texture. It shouldnt be a smooth powder.

This podi is good mixed with rice and ghee, or as a side dish for idli, dosa, etc.