The basic recipe for this really yummy kuchen (German for cake) was from
Nic at Bakingsheet
- the only added extra from me were the golden sultanas, which I think are nice in nearly anything.

I wanted to make something different for Pete's birthday - not the usual chocolate cake, so this seemed to fit the bill just nicely.

I cant praise this kuchen enough (and Pete loved it too) - the batter rises up beautifully around the apples and then pulls back as the cake cools, giving a very nice effect to the top of the cake. Anybody with better apple-arranging skills will probably end up with an even more picturesque cake, but even my haphazardly placed apples looked very nice.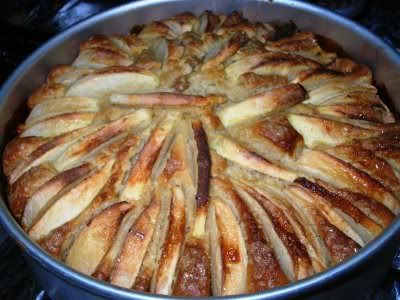 This kuchen is absolutely delicious served warm with thick cream or icecream. And the aroma and flavour of the vanilla coming through is to die for. Some people find vanilla bland, but I just love it - its flavour is so gentle and elegant. In fact, I also sprinkled vanilla sugar over each serving, which turned out to be an excellent idea.

I used three Pink Lady apples - peeled, cored and sliced - for my kuchen. Or rather, I used two and a bit, and ate the remaining because there really was no space left on top. With hindsight, two apples will do nicely.

Recipe for:
Apple kuchen with golden sultanas


Ingredients:

Two Pink Lady apples, peeled, cored and sliced into 1/2 cm thick wedges
1/3 cup butter, softened
1/2 cup brown sugar
1/4 cup white sugar
1 large egg
2 tsp vanilla extract
1-1/2 cups plain flour
2 tsp baking powder
1/4 tsp salt
1/2 tsp nutmeg
3/4 tsp cinnamon
1/2 cup milk
1/2 cup golden sultanas
1 tbsp sugar for topping (I used demerara)
Vanilla sugar for dusting (optional)

Method:

1. Preheat the oven to 180C (350F). Grease a round 8" cake pan (I used one with a loose base).

2. In a medium bowl, whisk together the flour, salt, baking powder, nutmeg and cinnamon.

3. In a large bowl, beat the butter and sugar until soft and fluffy.

4. Beat in the egg and vanilla extract.

5. Add the flour mix and milk in 4 alternating additions, starting and ending with the flour.

6. Fold in the sultanas and spread the batter in the prepared cake pan.

7. Arrange the apple slices on the top and sprinkle with the demerara sugar.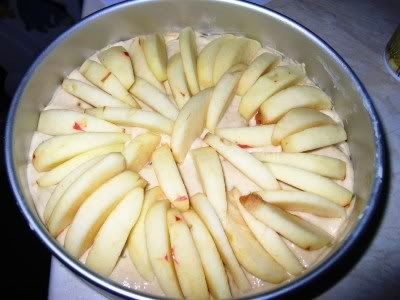 8. Bake for 45 minutes or so, or until a tester inserted in the centre comes out clean.

9. Serve warm, dusted with vanilla sugar and accompanied by thick cream or icecream.