Here's one dish I never thought I'd be writing about in my blog, much less make it at home! Mainly because my taste-buds REALLY dislike aubergines from the bottom of their little souls. There's no way to disguise it, not even buried under tonnes of cheese - I always know when that slug-like vegetable has found its way into my food!

However, no more mentions of slugs in the same breath as aubergines, since this is a recipe that became reality and was, apparently, edible.

I made curried aubergine rice for my husband, to rave reviews. He said he'd never had anything like it ever. This I believe, because I was really going to make something else (Saffron Hut's
Dahiwale Baingan
) with the aubergines, not combine it with rice! But I found out a little too late that my sour cream had perished of old age (when it's a fuzzy green on top, you can pretty much be sure of its demise) and I didnt want to use yogurt. So there went that idea.

Then, since there was some leftover rice from yesterday, I decided to marry the aubergine to the rice. Not such an unlikely pairing, really, going by the end result.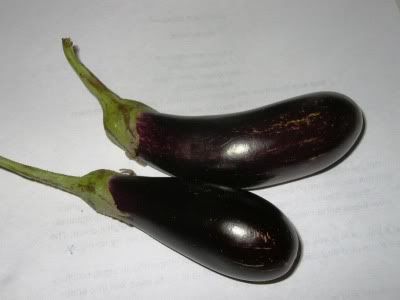 I want to say here that Saffron Hut's instructions worked out really well. She said to use the long thin kind of aubergines. So I did. She said to marinate the cut aubergines in a ginger-garlic-salt mix. So I did. She said to place it thereafter in a colander and put a bowl of water on top to squeeze out the bitter juices. So I did. And my goodness, did that ever work! It was pretty surprising to see just how much liquid got squeezed out. The aubergines also picked up the flavour of the marinade, according to feedback from my husband.

I pretty much followed the original recipe until the aubergines were cooked. Then I sauteed cumin seeds, coriander powder, mustard seeds and a bay leaf in a little oil and cooked two thinly sliced onions to a nice golden brown. (I would have added a few minced green chillies had I been making this for anyone but Pete - but he isnt fond of chillies really... something to do with HIS tastebuds, apparently!) Mixed in the rice and last of all, added the cooked aubergines. Served with a nice chilled tomato raita, this was quite a hit with Pete.

And because my taste buds rebel at the idea of eating aubergines, no matter how delectably cooked, I had toast and marmalade for dinner.

Recipe for:
Kathirikkai sadham (curried brinjal/aubergine/eggplant rice)


Ingredients:

4 cups rice, cooked
2 cups sliced Japanese aubergines (cut them in half lengthwise, then slice into 1/2-cm thick half-moons)
2 tsp ginger-garlic paste
2 fresh green chillies, cut into very thin rounds (optional)
1 tsp salt
4 tsp oil
2 medium onions, sliced thin
1 tsp coriander powder
1 tsp whole cumin seeds
1 tsp mustard seeds
5-6 fresh curry leaves
1/2 tsp garam masala (optional)
2 tsp fresh coriander leaves, for garnish

Method:

1. Sprinkle salt over the aubergines, then mix with the ginger-garlic paste. Place in a colander, and put something heavy on top (a large bowl of water is what I used), so that the bitter juices drain away.

2. In a pan, heat 2 tsp oil and pop the mustard seeds and green chillies if using. Add in the sliced aubergines and stir well.




3. Cook on medium high, stirring occasionally, until the aubergine is cooked and acquiring brownish spots. Ser aside.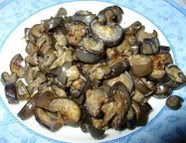 4. In a large pan, heat the remaining oil. Add the curry leaves, cumin seeds, coriander powder and garam masala and fry for 30 seconds until the cumin seeds turn a darker shade of brown.

5. Add the sliced onions, mix well and cook on medium high, until they start to turn golden brown. (Add an extra tsp of oil if you wish.)

6. Put in the rice and stir well, keeping it on the heat until it is warmed through. Mix in the cooked aubergines and check for salt.

7. Serve hot with a side of chilled tomato or cucumber raita, pickle and papads.