Warning: This post contains a bad-tempered moan.

Right, if anybody's still reading, here it comes: WHY arent there recipes for sweets and halwas that cater for two persons or less? I wanted a recipe for bottle gourd (doodhi) halwa (after my
first fiasco with halwa-making
, I decided it would be better to go with an actual recipe), but I wasnt exactly preparing to feed the hungry hordes! I just wanted to make some halwa in a small quantity, as a sort of timid trial - I certainly didnt want to make enough halwa to last the rest of the year! So, two litres of milk, 1 kilo of grated doodhi, half a kilo of sugar, as required in most recipes I saw - well, they didnt quite fit in with my requirements.

Yes, I could have scaled down the recipe and yes, that IS what I did in the end, more or less. But I was pretty doubtful about the quantities, I can tell you, as I'm not particularly experienced in making halwa. I had about a cup and a half of grated doodhi after draining it of water - and goodness, it's got a LOT of water content! It really helps to put the grated vegetable in a colander and a heavy bowl of water on top if it (thanks for the tip once again, Saffron Hut!).




Anyway, I started out with the milk and sugar on a much smaller scale this time - and what do you know, it worked. Anybody out there looking for a halwa recipe that makes two (generous) servings for one person or one serving for two persons... THIS is where you'll get what you're looking for.

Oh, and if anybody is wondering how my doodhi halwa acquired the gorgeous scarlet colour - well, non-cochineal food-grade colouring, that's how. (Easy when you're in the know, isnt it?). I added the colour because I felt the original halwa looked somewhat pale and insipid. I would have preferred a nice orange colour, but I didnt have orange food colouring.

One last point - I added dried mixed berries (strawberries, sour cherries, cranberries) instead of raisins, and cashewnuts as well.

PS. It would seem I have yet another last point, and I promise this will live up to its name - I forgot to take a picture of the bottlegourd, but I'm sure there are plenty of sources on the Net that have information about this pale green squash-type vegetable.

Recipe for:
Bottlegourd (doodhi) halwa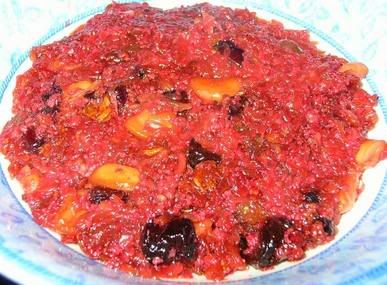 Ingredients:

1 medium bottlegourd, peeled and grated (about 1-1/2 cups after the liquid is squeezed out)
3/4 cup sugar
4 tbsp dried mixed berries (or raisins/sultanas)
1 tbsp cashewnuts, broken into pieces
2 tbsp ghee
1 cup milk + 1/4 cup extra if required
1/2 tsp cardamom seeds, powdered
1/2 tsp red food colouring (optional)

Method:

1. Heat the ghee in a pan and fry the cashewnuts till golden. Add the berries and fry for 10-15 seconds.

2. Add the grated squeezed doodhi and mix well, frying on medium-high for 5 minutes, stirring all the time.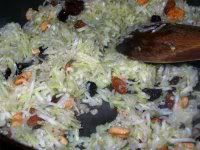 3. Now pour in the milk and stir well. Let the doodhi cook on medium-high till the milk is nearly absorbed. Stir every once in a while.




4. Now add the sugar and the cardamom seeds and mix well again. Add the 1/4 cup milk if the halwa looks too dry. If you're using the red food colouring, add it now.

5. Let the halwa cook down till the liquid is absorbed. Serve hot or cold.