Odd, how haricot beans dont have another name - I mean, since "haricot" is French for "beans", when we say "haricot beans", we're really saying "beans beans". Kinda like the Brits say "naan bread" :) Redundancy, that's what I'm talking about. Tautology, in other words.




Today I decided to venture into the pantry/store-room to see what there was in the way of canned things. Plenty, as it turned out. A tin of "beans beans" caught my eye because the "best by" date said September 2006. Perfect! Out came a tin of plum tomatoes as well, and I had dinner in hand.

This is a very, very simple curry - it doesnt even use onions and yet the flavour is awesome. It needs only the most basic of spices as well (basic to me, anyway). Serve the curry with chapaties or rice and you have a healthy, balanced meal.

This is my entry for Cate's ARF/5-a-Day event over at
Sweetnicks


Recipe for:
Haricot beans curry with spinach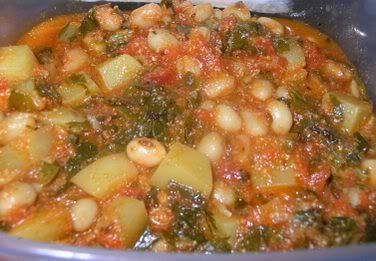 Ingredients:

1 can (440gm) tinned haricot beans, rinsed and drained
1 can (440gm) plum tomatoes, crushed
1 medium potato, sliced into small cubes
1 cup spinach (any kind), shredded
1 tsp ginger, grated
1 tsp garlic, grated
1 tsp cumin seeds
1 tsp coriander seeds, powdered
1/2 tsp fenugreek seeds, powdered
1 tsp kasoori methi (dried fenugreek leaves)
1 tsp ghee
1 tsp oil
2 tbsp thick curds/yoghurt
Green chillies to taste, minced
Salt to taste
1 tbsp coriander leaves for garnish

Method:

1. Heat the ghee and oil in a pan. Drop in the cumin seeds, ginger-garlic pastes and green chillies if using. Stir-fry for 30 seconds.

2. Then add the crushed tomatoes and stir in the powdered coriander and fenugreek seeds.




3. Let the tomatoes bubble on high heat for 5 minutes, then add the cubed potatoes.

4. Cook on high heat for another 3 minutes, then add the kasoori methi and spinach. Cover and cook on medium low for 10-12 minutes or till the potatoes are soft and cooked.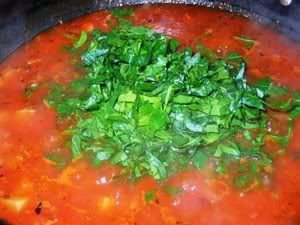 5. Add the haricot beans now, along with salt to taste, and stir. Let the curry simmer for 5 minutes.




6. Now add the yogurt little by little, stirring constantly so that it doesnt curdle. Leave the curry on low heat for another 2 minutes, then turn off the heat.

7. Sprinkle coriander leaves on the curry and serve hot with chapaties or over rice.