Just another of the variations on thogayal or chutney that are made in homes all over South India - and in homes all over the world wherever there are South Indians.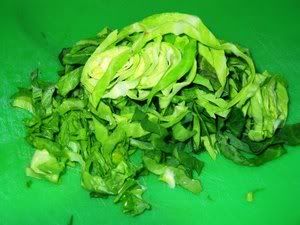 This time I used cabbage - green cabbage, which made my thogayal look quite pretty with little green flecks from the cabbage and little red flecks from the dried red chillies and golden bits of fried urad dal. Thogayal in general is really best when eaten fresh - keeping it in the fridge overnight detracts a lot from taste and texture.

Well, that's my opinion and the reason why I mostly only make enough to last a day or, at the most, two. Yummy mixed with rice, perfect for dosas as an accompaniment and have I mentioned that I LURVE thogayal sandwiches? Yep, with buttered bread! (Call me weird, I dont mind).

Recipe for:
Cabbage thogayal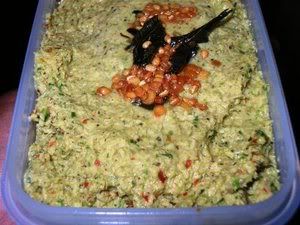 Ingredients:

1/2 cup grated fresh coconut
1/4 cup thinly sliced green cabbage
2 tsp urad dal
1 tsp oil
10-15 curry leaves (preferably fresh, but frozen/dried are also ok)
3/4 tsp tamarind paste OR large marble-sized piece of seedless dried tamarind
10 dried red chillies (adjust to taste)
Salt to taste

Method:

1. Heat the oil in a small pan and fry the urad dal, red chillies and curry leaves till the dal turns golden red.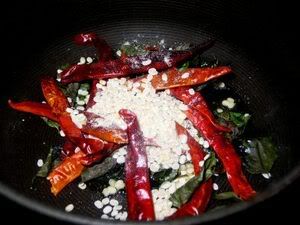 Remove 1/2 tsp of urad dal and curry leaves from the oil and reserve. (Leave the chillies in the pan.)

2. Now add the the sliced cabbage and saute for 2-3 minutes on medium-high or till it begins to wilt.




3. Cool slightly, then transfer the cabbage and seasoning to a mixie and grind along with the grated coconut and tamarind, using water as required to make a thick paste. Try to keep water addition to a minimum.

4. Add salt to taste and the reserved urad dal tempering, and mix well. A good side dish for chapaties, puris, bread, rice, dosas, etc.