I had a mild case of the munchies but felt too lazy to exert myself to make complicated snacks. Then it struck me - baked chickpeas (and folks, this is where canned chickpeas REALLY come into their own)!

I've read about baked chickpeas in quite a few blogs and all of them have raved about the chickpeas. So I decided to see for myself what all the fuss was about. The lethargy I was feeling meant that I couldnt be bothered to make up any exotic or unique spice concoction to flavour the li'l fellas. So I used good old sambar powder and tossed in a half tsp of chilli powder just to give it that extra kick.




The nice thing about these is that you can try different spice combinations every time you make them. And it doesnt have to stop with chickpeas - really any beans or lentils can be baked this way, of course with differing cooking time, depending on size. Plenty of fibre, very little fat. It's all good.

Anyhow, at the end of about 40 minutes, I had a cupful of golden brown, spicy, crunchy chickpeas. I'm afraid I ate them all, every bit. And I'm not ashamed to say so! (SO SO SO SO SO SO SO.) :)

Recipe for:
Oven-baked spiced chickpeas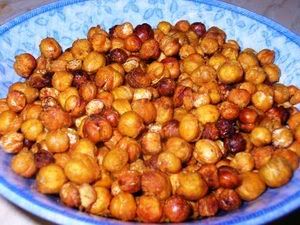 Ingredients:

2 cans chickpeas
1 tbsp oil
2 tsp sambar powder
1/2 tsp chilli powder (or use any spice combination of choice)
Salt to taste

Method:

1. Rinse the chickpeas in running water and drain. Toss them with the sambar powder, chilli powder, salt and oil.

2. Spread on a baking tray in a single layer.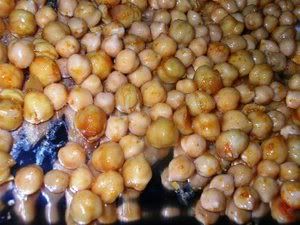 3. Bake in the oven at 180C, giving the tray a shake after 20 minutes or so to move the chickpeas around and allow for even baking.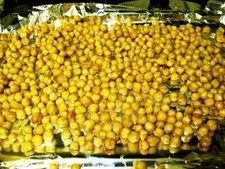 4. When the chickpeas are golden brown (approx 30-45 minutes, depending on the type of oven), remove them from the oven. Cool and store in an airtight tin - if you have any left to store, that is.