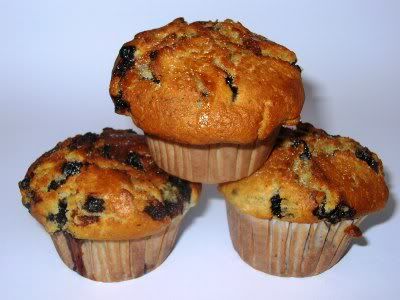 I know - muffins again! I've been making them in much smaller batches (of 6 large muffins max) so that they last just about 2-3 days - fewer if the kids are around. That means I'm free to try out another muffin recipe quite soon... unlike before, when I'd follow the recipes and make 12-16 muffins. That was simply too many for the two of us (only occasionally four) to reasonably eat without the muffins getting stale and hard, or even before we got tired of eating the same darn muffins every time!

Earlier, when I was a novice at baking anything, I was afraid to change the muffin ingredient quantities for fear of them turning out horrible. Nowadays, I'm not a novice, and I HAVE begun to change the ingredient quantities to cater for just me and Pete. The difference between being a novice and NOT a novice is... I dont care if the muffins turn out horrible! (Luckily most of them dont.)

To be honest, I do have the occasional hiccup - I tried making apricot muffins with canned apricots, and I think the batter got too mushy or something plus I probably didnt bake 'em long enough, I dont know. Anyway, the end result was less than spectacular - when I tried to peel the paper cups away, the muffins went with the paper and refused to hold their shape, ending up as blobby bits. Not what I'd call a big success!

I'm glad to say that these blueberry muffins were not a disaster - anything but! I used frozen blueberries rather than fresh; however, the muffins were wonderfully tasty anyway and oh, the fragrance...! This recipe makes 6 large muffins.

Recipe for:
Blueberry lemon muffins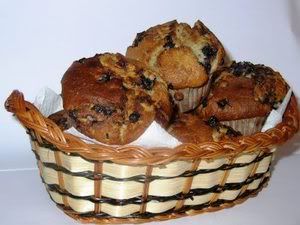 Ingredients:

1 cup flour
1/3 cup sugar
1/2 tsp baking powder
1/4 tsp baking soda
1/4 tsp salt
pinch of ground nutmeg
3 tbsp cold butter
3/4 cup buttermilk
1 tsp vanilla extract
1 large egg
1 tsp grated lemon rind
3/4 cup frozen blueberries

Method:

1. Heat oven to 190C. Line a muffin tray with paper cups.

Sift flour, sugar, baking powder, baking soda, salt and nutmeg in a large bowl.

2. Cut in/rub in the butter until the flour resembles coarse breadcrumbs.

3. Whisk together the egg, buttermilk, vanilla extract and lemon rind until well combined, then add it to the flour mixture. Stir till just moist.

4. Lightly fold in the frozen blueberries, taking care not to break them up.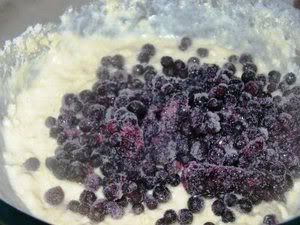 5. Spoon the batter into the paper cups to the rim.




6. Bake for 20 minutes or until a toothpick inserted in a muffin comes out clean.

7. Remove the muffins from the tray and serve warm.